USS Schenck DD-159
By Steve Shay (#L-10821)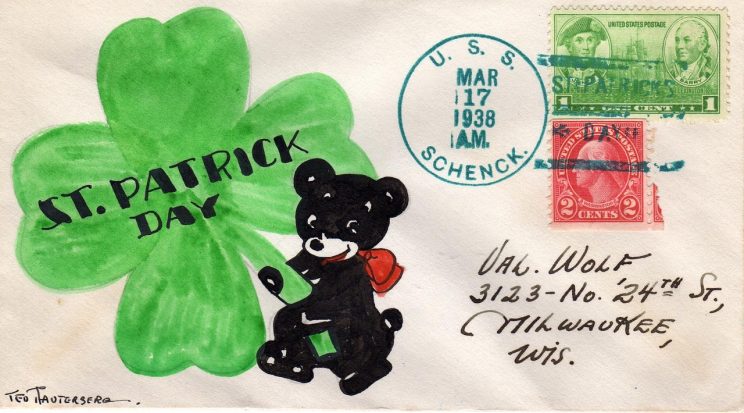 March 2006 Cover of the Month
This month's cover is a wonderful hand drawn cover celebrating the March 17 holiday. The cachet was drawn by Ted Rauterberg, USCS #1439. Ted was a "shut-in" member living in Milwaukee. Ted prepared some hand drawn covers, produced in small quantities for friends and other artists. He also drew some designs for cover sponsor D.C. Bartley and the Admiral Moffett Chapter. He passed away in 1939.
This cover features a water color drawn shamrock and pen and ink bear and writing.
The cover was cancelled with a Type 3 cancel aboard the destroyer USS Schenck (DD-159). The postal clerk was in the holiday spirit using green ink (though this was not allowed per postal regulations) and he inserted "St. Patrick's Day" into the killer bars.
The Schenck was one of many destroyers built during the World War I years, launched and commissioned in 1919 and taken out of service in 1922. Many of the destroyers built at this time spent most of the 1920's in mothballs. Schenck was recommissioned in 1930 and served in various roles after that, including training reservists, participating in Fleet Problem exercises and service in the Neutrality Patrol at the outbreak of World War II. After the United States declaration of war Schenck served on convoy duty and later joined a sub hunter-killer group built around the USS Card. During the last two During the last two years of the war Schenck served on convoy duty again and then provided training services for submarines. In September 1944 she was stripped of armament and reclassified as an auxiliary, AG-82 and served as a torpedo target ship for aircraft. While this seems like rather sedate duty, the old ship was twice holed by torpedoes that failed to run at the set depth and struck once by a low flying aircraft. Schenck was decommissioned in 1946 and sold for scrap.
Enjoy your Saint Patrick's Day and keep your eyes open for a four-leaf clover.