USS SC-1368
By Steve Shay (L-10,821)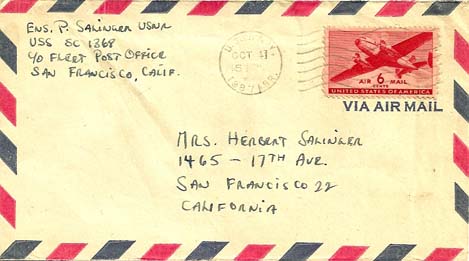 Not all of the ships that served during World War II were large or well known, like the carriers, battleships and submarines were. Many smaller ships played very important roles and many are almost forgotten today. Some of these smaller ships were the wooden sub chasers. 438 were built for service during the war. These ships could make 21 knots and were armed with a 40mm Bofors or 3" gun, three 20mm Oerlikons and K guns and depth charges for attacking submarines.
One of these subchasers was the USS SC-1368. With a crew of 25 sailors and 3 officers, little stands out to make this ship memorable except that one of her officers became a well known personality. Pierre Salinger, who went on to be Press Secretary for John F. Kennedy and Lyndon Johnson and then a correspondent for ABC News, was stationed aboard SC-1368. Salinger was commissioned as an Ensign in the USNR on June 27, 1944. He was assigned as the 3 rd Officer aboard the SC-1368. He later moved up to 2 nd Officer when the ship arrived at Palau, the CO being transferred off the ship and a new 3 rd Officer brought aboard. The new CO ran the ship aground and Salinger moved up to become CO at the age of 20 and rank of Ensign.
Salinger was promoted to Lieutenant Junior Grade in October 1945 when the ship was based at Buckner Bay on Okinawa. However a new CO was assigned to the ship and Salinger became 2 nd Officer again. (This CO was more familiar with minesweeping, the task the ship was assigned to now that the war had ended.) On October 9, 1945, a typhoon swept through and Salinger spotted 6 men stranded on a reef. Along with 2 sailors, they swam through the surf 150 yards and rescued the 6 men. Salinger received the Navy and Marine Corps Medal for this action. Salinger would be discharged in June 1946.
This cover contained a letter from Salinger to his mother in San Francisco. It is postmarked October 1 though the year cannot be read. The postmark reads US Navy Branch 13871. This branch number was assigned to Naval Station Buckner Bay, Okinawa on March 3, 1945. This means the postmark must be 1945 and just days before Salinger rescued the men on the reef. Since the corner card shows his rank as Ensign, it is also just before his promotion to Lieutenant (j.g.)