An Emergency Cover 1935
By John Young (#L-8219)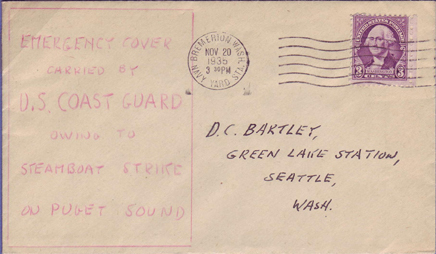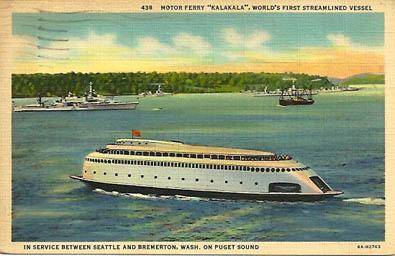 Somebody working at the Navy Yard sent Deane C. Bartley this red penciled cachet cover, machine canceled at Bremerton Navy Yard on 20 NOV 1935.
It appears that this emergency cover documents that it was carried aboard a Coast Guard cutter from Seattle to Bremerton WA (now a one hour trip.) He dropped it off at the yard's post office and canceled in the afternoon. The cover's wording "Emergency Cover/ Carried by/ U.S. Coast Guard/ owing to/ Steamboat Strike/ on Puget Sound" all in capital letters with a boxed square.
The M/V KALAKALA (built in 1935) usually made six round trips daily, capable of carrying 2,000 persons. Passenger fare was forty-five cents, while car and driver paid one dollar and ten cents. The steamboat strike ended (12/13/35) with a victory for the Masters, Mates & Pilots and the Ferry Boatmen's Union and the closing of one ferryboat company. Kitsap County Transportation Company closed, while Puget Sound Navigation Company (Black Ball Line) remained in business until it sold its ferries and facilities to the state in the 1950s. Today, Washington State Ferries carry passengers across the sound- with a monthly pass costing $89 dollars
The following Coast Guard cutters home-ported at Seattle (1935) include: 217-foot NORTHLAND, 250-foot CHELAN, 165-foot ATLANTA, 83-foot ARCATA and 67 foot GUARD. It's my belief that ATLANTA ferried yard workers to Bremerton, as NORTHLAND & CHELAN were too large for such an assignment. Collecting Coast Guard covers is FUN! FUN! FUN!