USS Salt Lake City
By Steve Shay (L-10,821)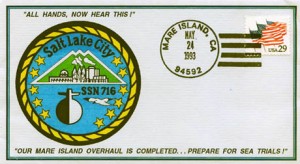 May 2005 Cover of the Month
Today, computer generated cachets are quite common. Photo quality cachets and intricate designs are all possible by using scanners, software and computers. With the low cost of computers, printers and scanners and ease of use, this perhaps can be the easiest way to prepare a small number of covers for servicing. (In fact many cachet makers who use computer generated cachets add them to the cover after servicing.) The computer and home printer offers a good alternative to printing hundreds of copies of the same cachet to make a printing press run economical. They also offer an alternative to hand drawing cachets. Many collectors use computers to add cachets to covers that were serviced years ago with no cachet. Of course, this is today, 2005.
In the early 1990's, computers were not low cost, printers were not low cost and the alternatives were poor quality dot matrix printing or laser printing, both in black ink only. Scanners were costly or nonexistent. Software was generally expensive and not as user friendly as that seen today. (Do you remember the c: prompt?) Yet some collectors saw this medium for what it could be in the future.
The cover this month is a computer generated cachet prepared by USCS member Steve Kovacs in 1993. The cachet marks the end of the yard overhaul of the submarine USS Salt Lake City at the now closed Mare Island Naval Shipyard. The cachet (the ships' insignia) was drawn freehand with some assistance from the canned shape designs using Apple computer technology of the time. The lettering was done a pixel at a time on some designs, especially when it wrapped around a curve. The cachet was printed using a laser printer. The cachet would be hand colored when the covers were received back from the station or ship that serviced the covers. Steve used acid free paper to hand fold the envelopes, glued with archival glue. Kovacs signed his covers on the reverse and noted the number prepared, usually 12-15 for each event.
Today, jpegs of the ship's insignia could be prepared by scanning printed material or by using non-copy written material found on web sites. This same cachet could be prepared much more quickly than it was done in 1993. However knowing that that this month's cachet was hand designed and drawn and printed on a computer makes it more interesting.
May will mark the 49th USCS convention. This convention will be held in the Portland, Oregon area May 27-29. Conventions offer a good opportunity to see dealers with naval covers and to meet fellow collectors, many of whom will also have covers for sale. It's a good opportunity to see old friends and meet new friends. There is normally an auction for members during the Saturday night of the convention. As a matter of fact, that's where this month's cover came from, a cover I won in some spirited bidding with Paul Huber. I encourage all collectors to attend a convention!