USS New Ironsides
By Steve Shay (L-10,821)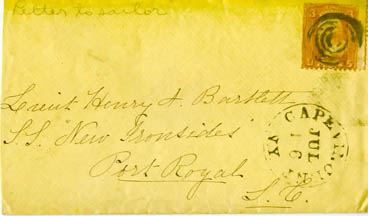 June 2005 Cover of the Month
During the United States Civil War, in an effort to build a better weapon, many ideas were considered and many ideas actually turned into hardware. Early in the war, both the North and South developed ironclad ships. The metal sides and turrets of the ships proved to be very resistant to damage by the cannon and rifle of the day. The North would build a better ironclad, launching the USS New Ironsides on May 10, 1862. Of course this ship was named after the famous Old Ironsides (USS Constitution.)
New Ironsides would not be a monitor as most Union ironclads were but would resemble a more conventional ship (without masts) though the overall design was rather boxy. The ship would have a steam engine capable of generating a speed of 8 knots.
New Ironsides would be sent to join the South Atlantic Blockading Squadron stationed off Charleston, South Carolina January 1863. Her duty was to protect the Union blockade fleet from Confederate ironclads and she also served as the flagship for Rear Admiral Du Pont. New Ironsides would later serve as a floating battery that was very resistant to return fire from both ship and land based fire.
New Ironsides took part in the attacks to take Charleston harbor. These attacks included bombardment of forts ringing the harbor, including Forts Sumter and Wagner. During an attack on April 7, 1863 New Ironsides was hit 50 times by Confederate shells from the shore batteries though the ship was not severely damaged. On the other hand the monitor USS Keokuk was damaged so heavily that she sunk the following day. The operations continued in July though the Confederate defenses proved to be very stubborn. Fort Wagner would not fall until September 6. Charleston would not fall until February 1865.
On the night of October 5 a Confederate semi-submersible, the CSS David, armed with a spar torpedo, managed to explode the device against the New Ironsides starboard quarter, damaging the ship. (The torpedo of 1860 was a stationary explosive mounted at the end of a spar. Torpedoes with self propulsion would not come until the 20th century.) New Ironsides would stay on duty until May 1864 at which time she sailed to Philadelphia, was decommissioned and repairs commenced.
New Ironsides would return to the fleet in August 1864 and joined the North Atlantic Blockading Squadron, attacking Fort Fisher at Wilmington, North Carolina in December. This fort also proved to be stubborn and would not fall until January 15, 1865. New Ironsides then joined the James River Division supporting the operations against Richmond. She would be decommissioned for the last time on April 6, 1865, before the war ended, and would be destroyed by fire on December 16, 1865.
This cover was mailed to an officer aboard the New Ironsides on July 16, 1863. The ships' address reads Port Royal, South Carolina, a Union coaling base, supply depot and repair yard supporting the South Atlantic Blockading Squadron. The cover is postmarked at Cape Vincent, New York and a cork killer was used to cancel the stamp. Mail to a ship during this era is fairly scarce.