USS Thresher
By Steve Shay (L-10,821)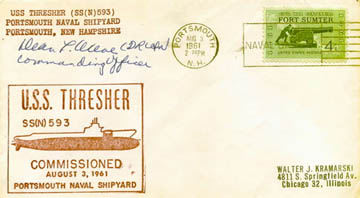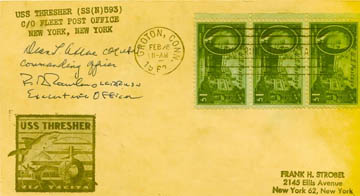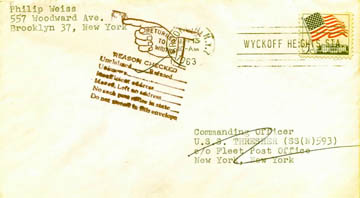 April 2005 Cover of the Month
The nuclear powered submarine USS Thresher SS-593 was launched July 9, 1960, the first of a new class of attack subs. Just over one year later, August 3, 1961 the Thresher was commissioned at the Portsmouth, New Hampshire Naval Shipyard. During the next 11 months sea trials were performed followed by a return to Portsmouth for a yard overhaul. During the lengthy overhaul period, Commanding Officer Dean Axene was transferred to become Officer-In-Charge and later Commanding Officer of the USS John C Calhoun. Lt. Commander John Harvey reported aboard Thresher as her new Commanding Officer.
On April 9, 1963, Thresher once again put to sea for a post-overhaul shakedown. On April 10, Thresher, while working with the submarine rescue ship USS Skylark, began a test depth dive. This was to be a controlled test stopping at different depths to check for leaks and to test equipment. Shortly after 9 AM that morning, contact was lost with Thresher. During the remainder of the day, air and sea searches began. Late in the day oil and debris were spotted. A public announcement was made at 8 PM stating that Thresher was overdue and presumed missing. On April 11 at a 10:30 AM news conference, the Navy concluded with deep regret and sadness that the ship was lost.
During the next 2 years, the Navy would investigate the Thresher with the bathyscaph Trieste and Trieste II recovering some debris. Ultimately the investigation would conclude that a faulty weld likely caused a pipe to fail, causing a leak. This was followed by a loss of propulsion. With no ability to stem the leak or move under power, the submarine continued to sink until the pressure was too great and the hull imploded.
The Commissioning cover is postmarked in Portsmouth on commissioning day with a shipyard cachet and autograph by Commanding Officer Commander Axene.
Also shown is a cover postmarked during operations in February 26, 1962 probably during sonar testing being performed off New London, Connecticut. This cover (actually card stock) is cancelled in Groton, Connecticut and autographed by Commander Axene as well as the Executive Officer, Lieutenant Commander Robert Rawlins. Rawlins would also be transferred from Thresher before the last sailing April 9, 1963.
Also shown is cover that was mailed to the Commanding Officer of the Thresher, two days after the Navy announced the loss of the sub. Whether the sender was aware of this or not is not known. What is seen is that the Post Office returned the letter with a notation, "Unclaimed."