USS Rochester CA-2
By Steve Shay (L-10,812)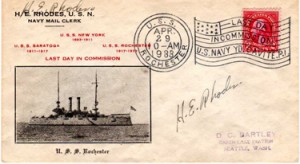 The Navy has a tradition of renaming a ship that is currently in service if that name is needed for a new ship. In the early 20 th century this happened with several ships, usually with armored cruisers named for states when the state name was to be used on a new battleship. The new name was usually a city located in that state. However not too many ships went through three names before they were decommissioned.
The armored cruiser USS New York (ACR-2 when hull numbers were assigned) was commissioned in 1893. By 1911 her name was needed for a new battleship (USS New York BB-34, keel laid in 1911) and the cruiser's name was changed to USS Saratoga. However the name Saratoga was desired for a new cruiser to be built and this name too was taken in 1917, this time given to the new USS Saratoga CC-3, keel laid in 1920. (This Saratoga would never be built as a cruiser but would end up as an aircraft carrier, CV-3.)
The ex-New York, ex-Saratoga now needed a name as she still remained in commission. In keeping with tradition, she received a new name, named for a city in the state she was originally named for. USS Rochester would be given hull number CA-2 in 1917. She performed as the flagship for the destroyers guarding the flight of the Navy NC seaplanes across the Atlantic in 1919. In 1932 she arrived in Shanghai to join the fleet in the Yangtze River. But 1 year later she was decommissioned April 29, 1933 in Cavite, Philippines. In fact she was still moored there in December 1941 when she was scuttled to prevent her capture by the Japanese.
This ship had a post office on board for most of the period 1909-1933, with cancels from USS New York, USS Saratoga and USS Rochester. Most are pretty rare with the exception of the USS Rochester type 5 and 6 cancels used during the 1928-1933 period. However D.C. Bartley sponsored a Last Day in Commission cover with a Fancy cancel (one of the best looking fancy cancels of the period) and this cancel was used only on the last day and is given an R-2 rating in the Catalog of United States Naval Postmarks with 10-25 known copies. The mail clerk cooperating with Bartley was H.E. Rhodes who signed this month's cover not only once, but twice! Interestingly, this cover (only one autograph) was illustrated in the June 1935 USCS Log in a column by Joseph Hale and described as an unrecorded "F" type postmark, "the only "last day" postmark and "flag" cancel".