USS Pollack
By Steve Shay (L-10,812)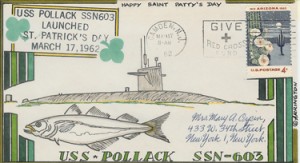 The 2 nd USS Pollack, SSN-603, was launched on Saint Patrick's Day, March 17, 1962 in Camden, New Jersey. Pollack was a Permit class nuclear attack sub. She was commissioned May 26, 1964 and would go on to serve for 25 years, being decommissioned March 1, 1989 after service in both the Atlantic and Pacific fleets.
Someone prepared launch covers and used a 4 line rubber stamp to indicate the ship name and event occurring on St. Patrick's Day 1962 and added a couple of shamrocks. It made for a nice but plain cover that marked the event.
Years later, USCS member Bud Arrington (7105) drew an add on cachet featuring the submarine profile and the namesake fish. This was one of the covers he did not finish before he passed away. USCS member Rich Hoffner (H-4456) acquired the cover and commissioned another member, Joe Lynch (5279), to finish and color the cover. Today it is a beautiful one of a kind cover.