USS Rhode Island (SSBN 740)
By Captain Lawrence B. Brennan, U.S. Navy (Retired), (USCS #L-6221)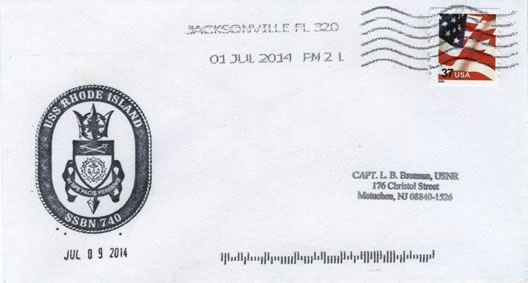 At first glance little would appear remarkable about this cover. It bears a 37 cent stamp at a time when first class postage is 49 cents for the first ounce. There is no postage due markings. But this cover had a round trip that took nearly a decade.
On 5 July 2014, I returned home and found a cover sent to me 107 months (eight years 11 months) earlier by Larry Briend who has been dead nearly nine years (October/November 2005). It bears USS RHODE ISLAND'S rubber stamp cachet with straight line dater 09 Jul 14, a date which was four days in the future when received. The cover is postmarked at Jacksonville, FL on 01 Jul 14.
Larry Briend was a collecting friend. I was in high school when we first met. Over the years we both sent covers for each other when we wrote to ships. Larry was the more faithfully writer and collector. Many of my covers, particularly from ship visits and operational events are the result of Larry's kindness.
Larry Briend, USCS #6,256, was a native New Yorker. He was born in Manhattan and grew up on the west side, near 34th Street.  He was educated in New York City schools and was graduated from one of the last public school ships in the nation, SS JOHN BROWN, a World War II Liberty Ship that was operated by the New York Board of Education on the North (Hudson) River in Greenwich Village. He was the son and only child of Canadian-born parents, Laurence and Catherine Briend.  His father was a merchant seaman and a veteran of the North Atlantic during World War II.  In 1969, the family moved to Tompkinsville on Staten Island, New York after Larry completed high school.  He remained a resident of Staten Island for most of the remainder of his life until he died at the age of 53 in the fall of 2005.
Larry joined the USCS in the late 1960s, just after I joined.  His primary interests were ship's photographs, jacket patches, and shoulder tabs; over the years he developed greater interest in covers.  He was a long and active naval enthusiast and vigorous collector and source of information about ship building and deployment schedules.  Larry reached out and contacted me and we soon met and became friends because of our shared hobby.  He was a founding member of USS AMERICA Chapter 71, USCS in the early 1970s and a crucial contributor to the chapter's cover sponsorship for more than a decade.  Larry created the rubber stamp cachet used for the chapter's first two cacheted covers.  Later, he organized and sponsored covers for USS IOWA Chapter. After a period outside the USCS in the 1980s and 1990s, President Rich Hoffner arranged his reinstatement. Larry collected and distributed data about ship events and movements and freely shared it with his friends and contacts world-wide.  He was particularly active during the first Gulf War, 1990-1991 and contributed much of the data for covers from MSCS and merchant ships. That information was published in the USCS LOG and now is contained in a Data Sheet.
In nearly half a century of naval cover collecting I have sent for and received thousands of naval covers (and lost my share of outgoing covers) but this cover took the longest time to make the round trip. Larry, thanks for another memorable addition.
Taken primarily from my obituary of Laurence J. Briend published as Member of the Month. http://www.uscs.org/society-archives/member-of-the-month/archive/laurence-j-briend/