USS Rendova CVE-114
By Steve Shay (#L-10821)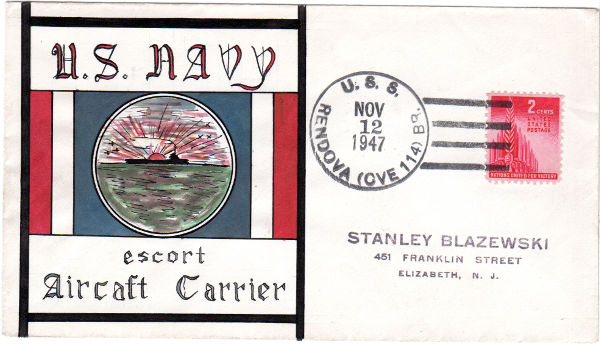 This is a hand painted cachet by Stanley Blazewski, USCS #9154. Sadly, he passed away in December 2004; his artwork was very appealing.
The cover has a cancellation from the USS Rendova, an escort carrier. She was built during the war at the Todd-Pacific shipyard in Tacoma, Washington but was commissioned after the end of the war, October 22, 1945. With the war being over, there was little need for another escort carrier and she spent most of 1946 with only a maintenance crew while serving as an administrative headquarters. After returning to active duty, she saw training off of Hawaii and the West Coast in 1947 and was doing this at the time this cover was cancelled.
1948 saw her in service around the world, ferrying planes to Turkey as well as several trips to China. She was decommissioned in January 1950.
When the Korean War broke out, she was recommissioned in January 1951. With a Marine squadron aboard, VMF-212 flying Vought Corsairs, she supported armed missions as well as reconnaissance missions. She provided good stop gap support until the larger carriers and jets could be brought in to support the bulk of the air war. She left Korean waters in December 1951 after earning two battle stars.
After returning to the states, she performed training missions but she was decommissioned in June 1955.