USS PORTLAND CA-33
By John Young (USCS #L-8219)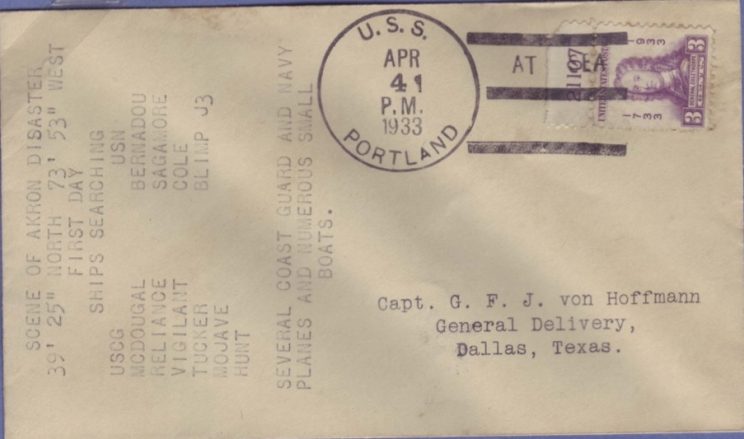 "Sweet Pea" known by her crew, was one of two INDIANAPOLIS class heavy cruisers built by Bethlehem Steel, Quincy MA. Launched in May 1932 and held its first day of commissioning ceremonies on 23 FEB 1933 at the Boston Navy Yard. There wereonly fifteen commissioning covers mailed from the Navy Yard Station, as delivery of the ships cancels were late. At least 6,000 covers were serviced for FDPS (29 MAR 1933) by Jeff Delano (USCS #70), the ship's mail clerk. He was assisted by Lois H. Anthony, the postal clerk at the Boston Navy Yard.
PORTLAND departed Boston (4/1/33) and anchored in Gravesend Bay (NY), late in the day on April 3rd. The next day, she received a message ordering her to the AKRON crash scene (Lat 39'25" North, Long 73'53" West) along the New Jersey coast.
Collector's cover (Captain von Hoffman, Dallas TX) documents ship's search & rescue mission that contains a list of Coast Guard (6) and Navy ships (3) assisting her in the recovery those killed in the crash of the airship. Posted on the first day (4 APR 1933)nwith wording AT SEA/ in the killer bars, the typed cachet was done by radiomen aboard the cruiser, with one of the radioman's communication typewriter.
Assisting on scene were the 240ft cutter, USS MOJAVE, CG, the 125ft patrol boats. USS RELIANCE, CG & USS VIGILANT CG, the Coast Guard destroyers HUNT (CG 18), McDOUGAL (CG 6) & TUCKER (CG 23), USS BERNADOU (DD 153), USS COLE (DD 155), USS SAGAMORE (AT 20) and Navy Blimp J3.
The cruiser spent her pre-war days operating with the Scouting Fleet. While the Japanese were attaching Pearl Harbor, the cruiser was screening USS LEXINGTON that was enroute Midway Island on December 7, 1941. She earned 16 battle stars- making her
one of the most decorated ships during World War II. PORTLAND was decommissioned on July 16, 1946 and sold for scrap in 1959.