USS Argonaut SM-1
By Steve Shay (#L-10821)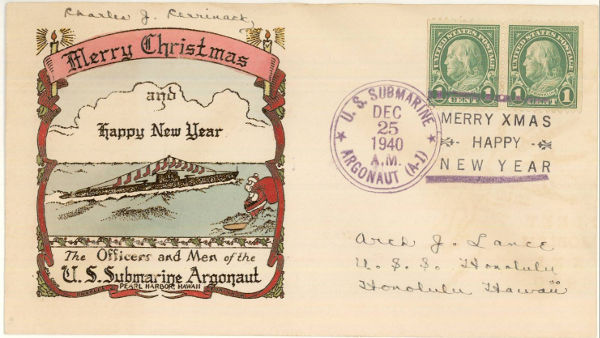 This is a beautiful cachet by James Chun who was a cachet artist for the Aloha and Argonaut Crews of the ANCS. The cover features a Type F cancel from the submarine USS Argonaut and it celebrates both Christmas 1940 and New Years 1941. The cover is addressed to Archie Lance, an electrician's mate aboard the cruiser USS Honolulu and a fellow cover sponsor and ANCS member.
The cachet has the name Charles Cerrinack along the bottom of the design. Charles was the postal clerk aboard the Argnonaut and he signed the cover at the top, over the cachet.