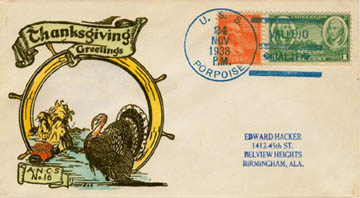 Thanksgiving 2006 Cover of the Month
By Don Tjossem (#L-10987)
Thanksgiving Greetings from the USS PORPOISE!
This very colorful Thanksgiving cachet was cancelled aboard PORPOISE (SS-172) on 24 November 1938 nearly 70 years ago! The artistry and graphics are very seldom matched in today's cachets. This was certainly the "Golden Era" of cover collecting.
This is a type 3 cancel is tied to a Scott # 803 one-half cent stamp and a Scott # 785 one-cent stamp. (In 1938 a person could actually purchase something with one-half of a penny!) Vallejo Calif. is shown in the killer bars.
This cover is addressed to Edward Hacker who was a cover sponsor in the 1938 – 1939 time period. The cover sponsor was Norman K. Mary, who was USCS #584 and also ANCS #16, which appears on this cover. In fact a copy of this cover, except for the sponsorship attribution, may be found on page M-15 of the USCS Naval Cover Cachet Maker's Catalog.
The artist for this cover was C. Wright Richell, who was a very active and prolific cover artist and sponsor in the period from 1934 – 1940. He was the president of the ANCS in 1937 and was ANCS #6 as well as USCS #251. His covers are prized possessions of cover collectors everywhere.
PORPOISE keel was laid on 27 October 1933 and she was launched on 20 June 1935. Commissioning day was 15 August 1935 at U.S. Navy Yard, Portsmouth, N.H. She earned 5 battle stars for her World War II service and was used for a training ship in Houston Texas area until 13 August 1956 when she was struck from the Navy List.