USS Long Island AVG-1
by Jon Burdett (#11619)
with editorial comments added by Steve Shay (#L-10821)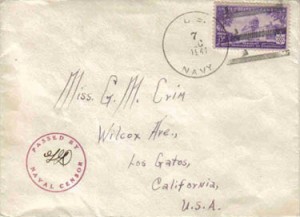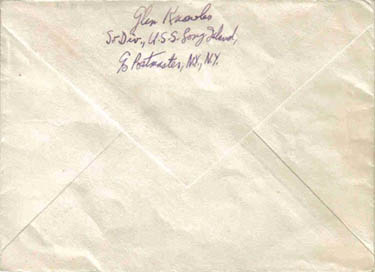 December 2006 Cover of the Month
The USS LONG ISLAND was the second ship so named, and the first of a new class referred to as "Baby Flattops". Laid down as MORMACMAIL on 7 July 1939, and acquired by the Navy 6 March 1941. She commissioned 2 June 1941 as LONG ISLAND AVG-1.
In the months before Pearl Harbor, she was a training vessel used to explore the use of aircraft operations from converted cargo ships operating out of Norfolk. The information gathered from these experiments greatly improved future "Baby Flattops" in combat readiness.
Just after the Japanese attack at Pearl Harbor, she was placed in escort service ferrying pilots to Newfoundland. On 5 June 1942, she joined The Pacific Fleet with Admiral Pye's Battle Force, and provided needed air cover to Admiral Nimitz's fleet in The Battle of Midway. On 17 July, she returned to her role of carrier pilot training at San Diego.
On 8 July, LONG ISLAND departed San Diego arriving at Pearl Harbor on 17 July, for training exercises south to Palmyra Island. She departed Pearl Harbor on 2 August with two squadrons of Marine Corps aircraft bound for the South Pacific. At a point of 200 miles southeast of Guadalcanal, she launched her aircraft in support of invading Marines. These aircraft were instrumental in the success of the liberation of Guadalcanal, and her mission was considered an outstanding success.
LONG ISLAND was reclassified as ACV-1 on 20 August 1942, and returned to her training exercises on the West Coast, as new "Baby Flattops" came into service. She spent the next year in this capacity, providing vital training to carrier pilots.
On 15 July 1943 LONG ISLAND was again reclassified as CVE-1, and during the next two years transported planes and their crews to various points in The Pacific. Upon the surrender of Japanese forces, she then participated in operation "Magic Carpet" bringing our boys home.
LONG ISLAND decommissioned on 26 March 1946, and was sold for scrapping in 1947. In 1948 however, she was acquired by the Canada-Europe Line for merchant service. Upon completion of conversion in 1949, she was named NELLY and served as an immigrant carrier between Europe and Canada. In 1953, she was sold to The University of the Seven Seas, and later named SEVEN SEAS. She then worked as a school ship traveling the world over in pursuit of knowledge, for the next 13 years. She was then sold to The University of Rotterdam to be used as a floating dormitory, until finally scrapped in 1977.
This cover shows the use of LONG ISLAND's fancy security cancel . The Universal Ship Cancellation Society Catalog of United States Naval Postmarks lists this cancel as Locy Type Fz (L-38). I purchased this cover several years ago to include in my Pearl Harbor collection, due to the cancel date of 7 DEC 1941. (Editor: There is always some concern over naval covers dated 7 DEC 1941. Some covers bearing this date are known to be philatelic covers with backdates, other are suspected of being backdated and some are known to be the real thing. The cancel on this cover appears to be a legitimate Long Island Type Fz cancel. However there was not a lot of censoring of mail going on at this time and it is possible the censoring could have been done upon the ship's arrival in Newfoundland, the staging are for convoys to Great Britain. If so, the cancel date could be backdated. At 60+ years after the fact, it is impossible to know with certainty. It is a nice piece of history.)
I have been a member of U.S.C.S. since 2000. I also have membership in The AMERICAN PHILATELIC SOCIETY APS#155266 (1986), and THE PEARL HARBOR SURVIVORS ASSOCIATION PHSA #40018 (1998) Honorary Member/Historian. I have been a stamp and cover collector for over 30 years, and I am now looking for certain destroyer escort covers, and Hawaii based Coast Guard during WWII.
The date of this cover is significant, as the 65th anniversary of the attack is at hand. Right now, PHSA members and their families are meeting in Hawaii to commemorate this event. This is to be the last official meeting in Hawaii, now that all of these survivors are in their 80's and older.
THE PEARL HARBOR SURVIVORS ASSOCIATION was formed in 1958 at Gardena, Ca. when eleven survivors began meeting on a regular basis to swap stories and share a meal. The Society boasted 19,000+ members in 1995. This number has steadily declined as time catches up, and the current membership is now about 5000. The Society works diligently to preserve the memory of this tragic event, and their fellow sailors and soldiers who gave their lives to defend this nation. Their involvement includes school presentations, parade participation, memorial dedications, burial guard services for those who have passed since, political awareness to assure continued commemoration, and any other service that will keep the society preservation and its goals intact . The Society was instrumental in the naming of the U.S.S. PEARL HARBOR LSD-52. Their motto…" REMEMBER PEARL HARBOR… KEEP AMERICA ALERT" The current National President is Mal Middlesworth (U.S.S. SAN FRANCISCO U.S.M.C. Det.)
Membership in the Society is strictly limited to those that were at Pearl Harbor or within three miles of the coast of Oahu on December 7th 1941 at 07:55 – 09:45 am, must have been enlisted in the Armed Forces and discharged honorably, and never have been a member of The Communist Party or any other organization that seeks to overthrow or subvert the United States Government. There are also Associate Members, and Honorary Members, that are involved but do not qualify under the above mentioned requirements. The Society also is associated with THE SONS AND DAUGHTERS OF PEARL HARBOR SURVIVORS, a second association with the same goals . (Editor: USCS member Frank Hoak, #6194, notes that many family members will continue to hold annual meetings. Frank was present at Pearl Harbor on December 7, the young son of a Chief Radioman aboard the USS Pennsylvania.)