USS Plunger (SS-179)
By Steve Shay (#L-10821)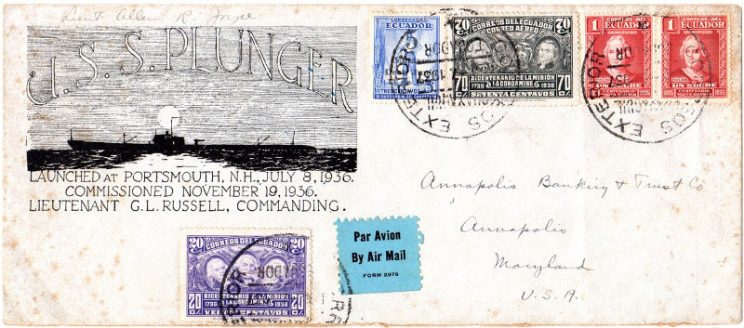 The Porpoise class USS Plunger was commissioned November 19, 1936 and departed on her shakedown cruise April 15, 1937. The cruise took her to Guantanamo Bay, the Canal Zone, and Guayaquil, Ecuador.  This cover, mailed by the Executive Officer, Lieutenant Allen R. Joyce, was mailed from Guayaquil, via airmail, to the Annapolis Bank & Trust Company. While Plunger had a post office aboard the sub, this cover was posted with local postage, probably to make the air mail flight.
Plunger made several war patrols during World War II, the first in December 1941. Her war patrols were rather routine for the sub service with a few ships sunk, a flier rescued and on her third patrol, she hit an uncharted reef at 52 feet. She was overhauled at Pearl Harbor in late 1944 and then proceeded to New London where she served as a training ship. She was decommissioned November 15, 1945.
She received 14 battle stars for her World War II service.