USS Philip
By John Young (#L-8219)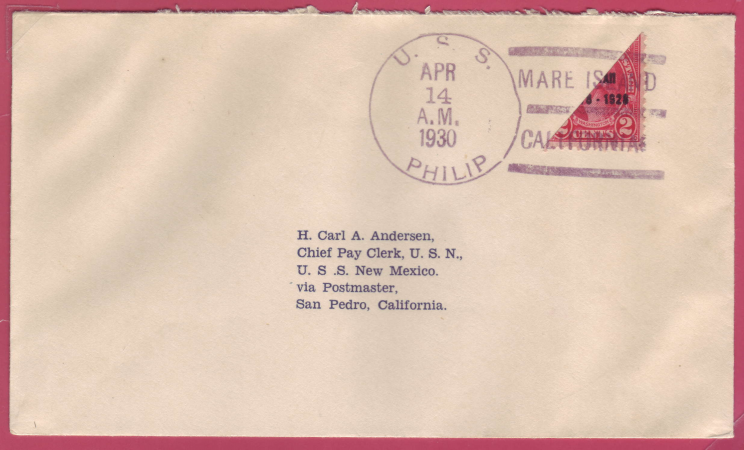 A "Wilkes" class destroyer launched in July 1918 that saw three periods of active duty (August 1918- March 1922 & February 1930- March 1937) before going to England under the "lend-lease" program in October 1940. One of the "Famous Fifty," she served as H.M.S. LANCASTER until June 1945. She was eventually scrapped in 1947. Fewer than five covers with type 3r (AC) cancel (1919) are known to exist.
Cover franked with a bisected 2 cents Washington stamp, overprinted with words that commemorate the Hawaiian Sesquicentennial. Note: a "bisect" is a stamp cut in half and used on mail at half its original face value. Its posted aboard USS PHILIP on 14 APR 1930 with words MARE ISLAND/ CALIFORNIA between killers. Note: no indication of "postage due" because the bisect stamp represented one cent. No markings or postmarks on reverse.
Addressee, Chief Pay Clerk Andersen, U.S. Navy was a collector and member of the North Bay Stamp Club and attended its meeting on March 12, 1930. A guest speaker, H.F, Bowler, a well known authority on stamps of China and gave a short and interesting talk on his specialty and exhibited a few covers, bisects, etc of that interesting country.
Andersen, Hans Carl Andrew, born in Denmark (October 11, 1895) and joined the Navy (February 2, 1922) and served as Chief Pay Clerk aboard USS NEW MEXICO. He served as North Bay Stamp Club president (September 1930-31) while assigned to Naval Hospital, Mare Island and moved on to USS CALIFORNIA.
Who has the other cover, addressed to Andersen with the left half of the 2 cent Washington stamp, overprinted HAWA/ 177 on the stamp?