USS Schenck
By Steve Shay (#L-10,821)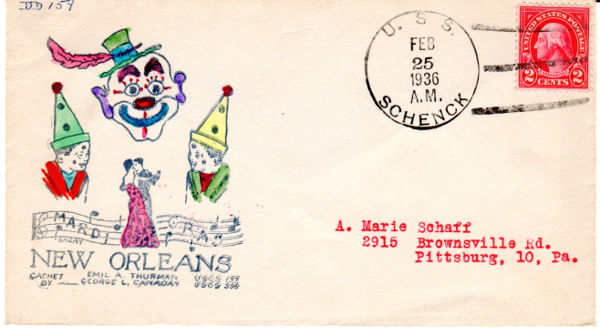 The destroyer USS Schenck, DD-159, was one of many destroyers built as part of the World War I US Navy expansion. And like many, she served for only a short period, from 1919 until 1922 at which time she was decommissioned. After being put back into service in 1930, she then served in continuous service through World War II.
Prior to the US entry into World War II, she served on Neutrality Patrol, escorting convoys in the North Atlantic, a service she continued after December 1941 until 1943. Then her escort duties took her to the warmer waters in the Caribbean. By 1944 her front line duties were ended and she moved stateside to serve as a torpedo target ship for aircraft in the Quonset Point, Rhode Island area, where she finished the war. She was decommissioned May 1946 and subsequently scrapped.
The cover this month is one by Emil Thurman and George Canaday, both USCS members in the 1936 time period. This cover features the fun and party atmosphere of Mardi Gras in New Orleans and has been hand colored.