USS PENSACOLA (CL-24)
by John Young (l-8219)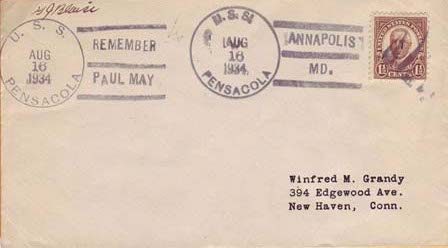 Cover from sailor (mail clerk), G.J. Blaise to collector, Winfred Grandy (USCS #128) documents a historic event with wording REMEMBER/ PAUL MAY between the killer bars of cruiser's type 3s (B) cancel on 16 AUG 1934. Grandy's cover had postage (printed matter rate) killed with killer bars, while ship's type 3 (B-BTT) cancel has ship's location ANNAPOLIS/ MD in its killers. What's the story?
A search of internet reveals that Paul May was the Belgian Ambassador to the United States (1931-34) and he passed away following a operation at a Washington DC Hospital on August 6, 1934. CDR (later VADM) Aaron Merrill was made an Officer of the Order of the Crown by the Belgian Government for escorting the body of Paul May home to Antwerp, Belgium aboard the cruiser. Source: Google search has it occurring in June 1935, cover documents it happened in August 1934.
The first American cruiser built under the restrictions of the Washington Naval Treaty was the 585 foot, 9,097 ton cruiser that was launched at the Brooklyn Navy Yard in April 1929. Commissioned USS PENSACOLA (CL 24) on 6 FEB 1930, she was reclassified a heavy cruiser (CA) on July 1, 1931. Her first day of postal service occurred on 7 APR 1930, while passing through the Panama Canal as indicated by wording in its killer bars. The USCS Catalog list FDPS as R-2 (10-25 recorded copies.
PENSACOLA operated with Cruiser Division 4, Scouting Force as reported in the USCS Bulletin (October 1932.) She was enroute the Philippines when the Japanese Naval Forces attacked Pearl Harbor and fought in every Pacific campaign from Midway, taking in Santa Cruz and Guadalcanal. She participated in the landings of the Gilbert Islands and the bombardment of Iwo Jima and Okinawa and earned 13 battle stars during the war.
During "Operation Crossroads" was a target ship and she survived both blasts at Bikini Atoll in July 1946. She was decommissioned on 26 AUG 1946 at Kwajalein and was studied for radiological and structural damage until the hulk was sunk in November 1948.