USS Patrick Henry SSB(N)-599
By Steve Shay (L-10,821)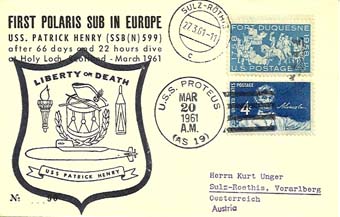 During the 1950's there was an urgency by the Navy to field missile firing nuclear submarines. This resulted in the only Regulus firing SSGN submarine, the USS Halibut, SSGN-587 and eventually the first in class, Polaris firing USS George Washington, SSB(N)-598. This was followed by the USS Patrick Henry, SSB(N)-599.
The Patrick Henry was laid down on May 27, 1958, just 18 hours later on the same building ways that the USS Skipjack SSN-585 had just been launched from. The urgency continued with the launch of the Patrick Henry on September 22, 195 and beginning of sea trials March 7, 1960, at that time the shortest construction time for keep laying to initial sea trials for any boat built since the end of World War II. Unlike some submarines which were built during this time when attack submarines under construction were cut apart to have sections installed converting them to missile submarines, such as the conversion of the under construction Scorpion to George Washington, the Patrick Henry started construction as an SSB(N) though some sections of the boat may have originally been being built for a SSN.
The urgency continued with a commissioning on April 4, 1960. She had five successful submerged launchings during trials off Cape Canaveral, Florida in August and September 1960. She then returned to New London, Connecticut in preparation for her first patrol. After picking up a full load of Polaris missiles in Charleston, South Carolina, she departed December 30, 1960 for Holy Loch, Scotland. During a trip where she remained submerged for 66 days, 22 hours, she arrived at Holy Loch on March 8, setting a record for continuous submergence under sealed boat conditions. She went alongside the tender USS Proteus for replenishment and routine repair.
She would go on to serve until decommissioning May 24, 1984. During mid life she was converted to an attack submarine as more modern missile boats took over the role of deterrence.
This cover was prepared by Joachim Dill (#3869) of West Germany. He is also known for his first day cover cachets. This cover features a printed cachet noting that the USS Patrick Henry was the first Polaris sub in Europe after her arrival at Holy Loch and it has the ship's rubber stamp cachet and was cancelled aboard the tender Proteus 12 days after arrival. It also bears a Sulz-Roethis, Austria postmark 7 days later although the stamp is a US postage stamp. Joachim prepared a series of covers for a subscription service. He prepared a four times a month bulletin called "Dill Reports the News" so that subscribers would have time to send off for covers. Many were not ship related events. This was Number 90 in the series.