USS Pennsylvania BB-38
By John Young (USCS L-8219)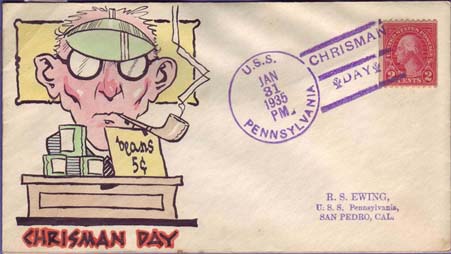 Lead ship of the "Super-dreadnoughts" built by Newport News Shipbuilding Co., (launched 16 MAR 1915) and was commissioned on 12 JUN 1916. "Pennsy" being oil fueled, rather than coal, did not enter European waters until after the 1918 Armistice. She served as Flagship, U.S. Fleet and was in dry-dock during the Japanese attack on Pearl Harbor. She earned eight battle stars during World War II and survived the Bikini A-Bomb explosion.
She had been decommissioned on 29 AUG 1946 following participation in "Operation Crossroads" and towed to Kwajalein for further studies. The "Pennsy" sank stern first on 10 FEB 1948. All that survives are the thousands of covers posted aboard!
After modernization at Philadelphia Navy Yard (1929-31), the "Pennsy" returned as Fleet Flagship and a decade of canceling covers for both USCS/ ANCS sponsors. She had her own USCS Chapter- the U.S. Fleet Chapter #24 from October 1934 through late 1935, with Ray Sherman Ewing (USCS #739) as its first cachet director. The chapter was made up of crew members aboard the flagship. Ewing was transferred in March 1935.
Hand drawn cachet depicts H.H. Chrisman (USCS #199 & RCD #37) smoking a pipe and wearing a visor, posted aboard the battleship on 31 JAN 1935. Mail clerk placed wording CHRISMAN/ DAY in killer bars. Chrisman was cachet director for the Modesto CA- Commodore Sloat Chapter #36. Cartoonist John Coulthard (USCS # 802) was the cachet artist. My question! Why the three cans of beans?