USS Honolulu CL-48
By Steve Shay (L-10,821)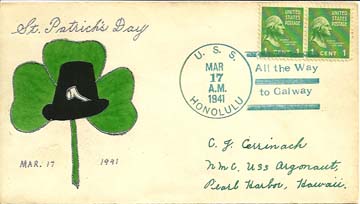 All the Way to Galway. Unfortunately the USS Honolulu never made it to Galway but she did sail to England on her shakedown cruise. This festive cachet honoring St. Patrick's Day was hand drawn by Alice L. Beatty (ANCS #583) of Newark, Ohio and features hand coloring and thermographed silver printing. Alice specialized in hand drawn cachets and her signature on the reverse matches the hand writing in the address area. This cover was sent by her to the mail clerk on the USS Argonaut, C.J. Cerrinack. Both were members of the ANCS Freebooters crew, a crew that was known for sending covers to other crew members.
On St. Patrick's Day 1941, the Honolulu had been in commission just less than 3 years and was operating out of Pearl Harbor where she would be on December 7 of the same year. During the attack she suffered minor hull damage from a bomb near miss. During the first 5 months of 1942 she would be performing convoy escort duty in the Pacific including to Australia, a long way from Galway. She then moved into Alaska waters taking part in the campaign at Adak and later that year was in the waters around Guadalcanal. She served the remainder of World War II in the Pacific until November 1944 when she arrived at Norfolk to undergo repairs after a torpedo hit in Leyte Gulf. She operated briefly as a training ship after the war but would be decommissioned in February 1947 and sold for scrap in 1949.
This cover has a very sharp Type 3(A-TBT) cancel in a green ink to go with green stamps to help accent this green holiday.
Have a Happy St. Patrick's Day. Erin Go Bragh!