Northampton (CA 26)
John Young (L-8219)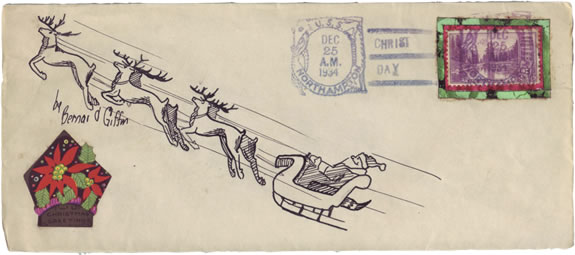 Interesting hand-drawn cachet depicts Santa & his sled by Bernard Giffin posted aboard heavy cruiser with ship's fancy cancel (N-18f) on 25 DEC 1934 with CHRIST/ DAY between the killers. Looks like Mr.Giffin never heard of Donner and Blitzen!
It appears mail clerk (Leo Miller, USCS #207A) made this cancel by combining dial of the ship's Dragon cancel (N-18d) and three killer bars from a type 3 cancel. The cover appears to be the same style created by Henry Stinemetts because of the stamp was pasted upon decorated metallic paper (green & red) and usage of a Christmas label.
The first of six 9050 ton cruisers (CL/ CA 26-31) built under the limitations of the London- Washington Naval Treaties. Built by Fore River Shipyard, Quincy MA, she was named after the City of Northampton. After commissioning on May 17, 1930, she headed to Europe during the summer with the ship's company- 90 officers and 606 enlisted. She moved to the Pacific, operating with the Scouting Force, U.S. Fleet.
NORTHAMPTON was at sea, with Admiral Halsey's carriers during the attack on Pearl Harbor. She was sunk at the Battle of Tassafaronga on (30 NOV 1942) during the Guadalcanal Campaign and earned six battle stars for her service during the war.