USS New York (BB 34)
By John Young, USCS (#L-8219)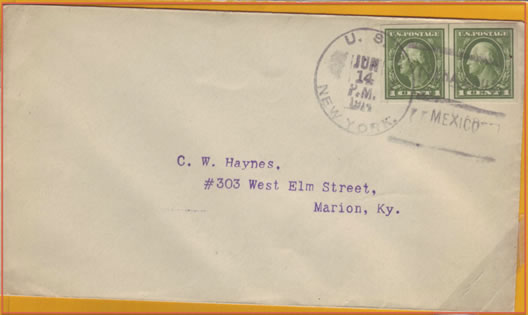 Interesting philatelic cover posted aboard the battleship that made its shakedown cruise to Mexican waters during the summer, 1914. Collector C.W. Haynes, Marion KY franked his request with imperforated pair of the one cent Washington (Sc #404), posted aboard USS NEW YORK on 14 JUN 1914 with the wording VERA CRUZ/ MEXICO in the killer bars. Haynes's name appears in a trade advertisement in Stamp Herald looking to trade for pre-cancels from Kentucky (Jan 1919).
The 572-foot, 27,000 ton "Super Dreadnought" was launched at the Brooklyn Navy Yard on 30 OCT 1912 and commissioned on 15 APR 1914. She served as Flagship for Admiral Frank Fletcher, commanding the fleet occupying and blockading Vera Cruz (4 MAY-14 SEP 1914). She earned the nickname the "Christmas Ship" for hosting New York City orphans to a big dinner party in the days before World War I.
She served as Flag, Division 9 with the British Grand Fleet during the war and operated with the Pacific Fleet (1919-35) except where she underwent modernization at the Norfolk Navy Yard during 1926-27. She returned to the Atlantic Fleet to perform the Midshipman Cruises to Europe, including bringing FDR's representative Admiral Hugh Rodman to King George's coronation in May 1937. After performing Neutrality Patrols in 1939, NEW YORK underwent another refit and was there during the Japanese attack at Pearl Harbor on 7 DEC 1941.
During World War II, she earned three battle stars participating in the invasion of North Africa, Iwo Jima and Okinawa. She survived as a "target ship" at Bikini Atoll and was decommissioned on 19 AUG 1946. Towed to sea, she was sunk on 8 JUL 1948.