USS Northampton CA-26
By Steve Shay (#L-10821)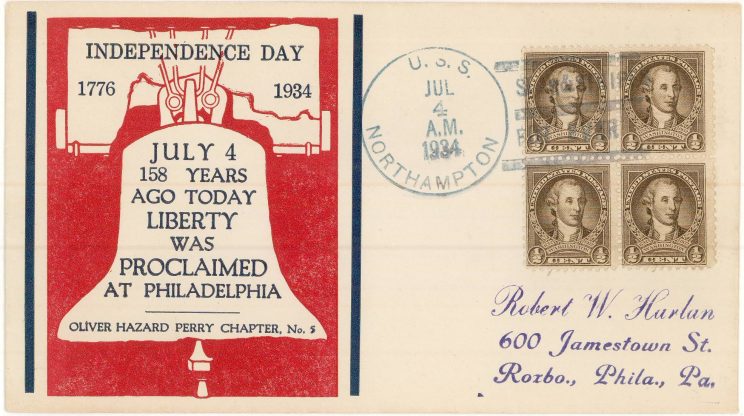 This cover was prepared by an early USCS chapter, Chapter #5, the Oliver Hazard Perry Chapter. The attractive cachet marks the Fourth of July 1934.
The cover was cancelled aboard the cruiser USS Northampton. The keel for the cruiser was laid in 1928 and it would be two years before commissioning, May 17, 1930. While originally designated as a light cruiser, CL-26, she was reclassified as a heavy cruiser, CA-26, in 1931.
Northampton spent most of her pre-war years in the Pacific and she was with the Enterprise task force returning to Pearl Harbor on December 7, 1941, arriving on the 8th. During the early part of 1942, she participated in several hit and run bombardment attacks. She was at the Battle of Midway, still part of the Enterprise screening force.
In August, she sailed for the waters around Guadalcanal and was in action during the Battle of the Santa Cruz Islands in October. On November 30 she became a victim during the Battle of Tassafaronga where she was hit with two torpedoes and sank within 3 hours.
The cruiser was awarded six battle stars for her World War II service.
The Northampton is a favorite of many collectors, with many attractive cacheted covers being serviced aboard during the 1930's.