USS Newport PG-12
By Steve Shay (L-10,821)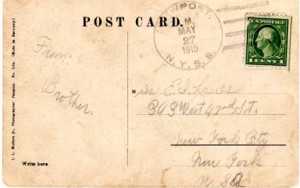 The gunboat USS Newport was named for the city in Rhode Island and was launched in 1896 and commissioned in 1897 in time to serve during the Spanish American War. She was credited with assisting in the capture of nine Spanish vessels. She was a "composite" gunboat, built with wooden planks over a steel frame. The Newport was equipped with sails as well as a power plant.
She served as training ship for the US Naval Academy in 1900 and at the Naval Training Station at Newport, Rhode Island until late 1902. From early 1903 through late 1906 she operated with the Atlantic Fleet.
In June 1907 she was loaned to the Massachusetts Naval Militia and then reassigned to the New York Public Marine School October 27, 1907, replacing the schools ship, ex-USS St. Mary. The New York Public Marine School today is known as State University of New York Maritime College. A photo dated August 1915 shows her in drydock at Mare Island so the students must have gotten an opportunity for some long voyages.
While on loan to the school, the New York Post Office apparently arranged to have a post office on board. This arrangement was not under the Post Office-Navy Department agreement. The Postmark Catalog lists 2 cancel types with an earliest use of 1912. This post card was cancelled May 27, 1915 and features a scene in Colon, Panama. This was probably posted on the voyage to Mare Island. The cancel reads "Newport, NYSS" with NYSS standing for New York State Nautical School Ship. The Postmark Catalog rates this cancel with an R-4 scarcity, making it one of 5 known copies.
Newport was returned briefly to the Navy in 1918 and served in additional training duty. In 1919 she was turned over to New York State and designated IX-19 in 1921. She was struck from the Navy List in 1931 and turned over to the city of Aberdeen, Washington in 1934 to be used as a training ship for the US Naval Reserve.