USS Boxer CV 21
By Steve Shay (L-10,821)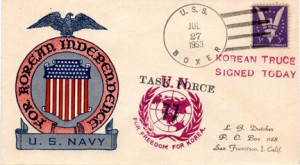 Truce talks resulted in the signing of a cease fire agreement in Panmunjom on July 27, 1953, ending the Korean War 56 years ago. Today, saber rattling and missile launches by the North Korean government remind us of the Korean War "police action."
This cover, with a cachet by George Sadworth also reminds us of this time with the cachet stating "For Korean Independence". This was a generic design cachet but it certainly fit the occasion on this date! The cover was postmarked on the day of the truce signing, cancelled aboard the USS Boxer. A hand stamp was applied noting that the truce was signed that day and the emblem of the United Nations was also added using a hand stamp. On top of the UN emblem is a hand stamp reading Task Force 77. The cover is addressed to USCS member L. G. Dutcher, (1411).
The aircraft carrier USS Boxer, CV-21, was part of Task Force 77, the strike group of the Seventh Fleet. Task Force 77 maintained stations in the Sea of Japan and Yellow Sea, striking targets during the war. Boxer served four tours as part of TF 77 in these waters, earning 8 battle stars. Boxer was an Essex class carrier and was later converted to an Amphibious Assault Ship, and re-designated LHA-4.
Philatelic covers from the Korean War era are not too common, naval cover collecting was still trying to recover from the effect WWII had on collecting. I also have a cover marking the end of the war prepared by USCS member Chuck French (L-2603), postmarked aboard the USS Bairoko on the same date.