USS New Mexico BB-40
By Steve Shay (#L-10821)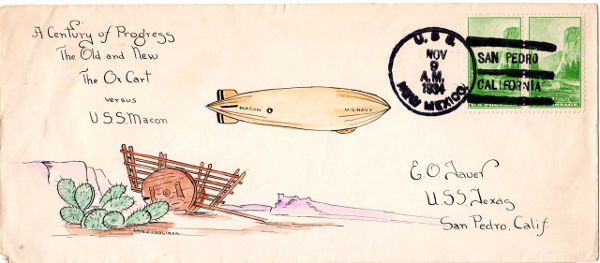 This wonderful hand painted cachet was prepared by Lottie Eshliman of Hollywood. She was USCS member #262 and she prepared cachets for the Admiral Reeves Chapter of the USCS. She prepared covers over a 4 year period from 1934-1938. Her work is always very beautiful.
This cover was cancelled aboard the battleship USS New Mexico, while in port in San Pedro in November 1934. The cachet features the old and the new, the ox cart and the Navy's dirigible, USS Macon. The phrase Century of Progress recalls the World's Fair in Chicago that ended in October 1934, not too long before this cover was cancelled. The Macon was commissioned in 1933 and would be lost in a storm off Point Sur, California February 12, 1935.