USS New Mexico BB-40
By Steve Shay (#L-10821)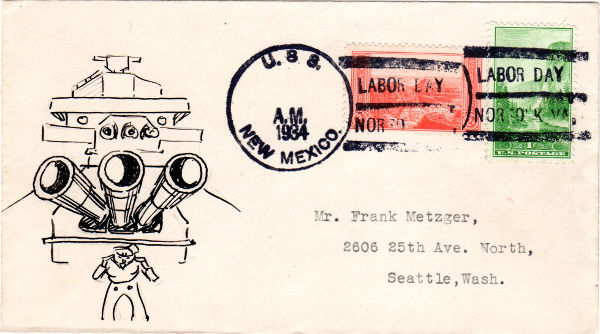 Here is a hand drawn sailor, presumably on board the battleship USS New Mexico. His fingers are in his ears, waiting for the firing of the 14″ main guns. I'm not sure his fingers would have helped much at that distance but we get the point… Boom!
The cover postmarked with the ships Type 3 cancel in 1934, apparently on Labor Day although there is no date slug in the dial. And the ship was in Norfolk at the time.
USS New Mexico would have a long career after being launched in 1917. She was commissioned May 20, 1918 and after her shakedown cruise she joined the Atlantic Fleet. During the next 22 years she split time in the Atlantic and Pacific Fleets. She was part of the force that took a cruise to Australia and New Zealand in 1925. In 1937, she spent time in Alaskan waters evaluating service in those frigid waters.
1941 would find her in service back in the Atlantic Fleet but this changed in 1942 when she was transferred to the Pacific. She would spend the rest of the World War II years there, serving in the Alaskan Theater, participating in the taking of several islands in the Pacific and the liberation of Luzon.
She took part in the invasion of Okinawa and ended the war in Tokyo Bay during the surrender ceremony on September 2, 1945.
She was decommissioned July 19, 1946 and sold for scrap. Scrapping was completed 2 years later in July 1948.
She earned 6 battle stars for her service during World War II.