USS New Jersey (BB-16)
By Steve Shay (#L-10,821)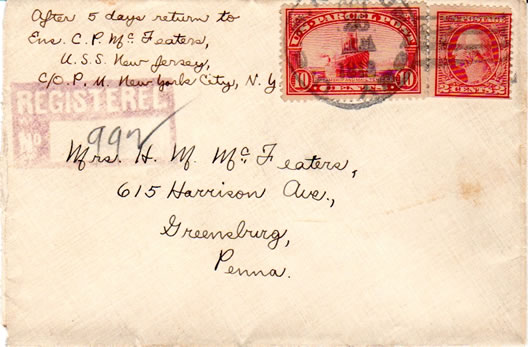 The battleship USS New Jersey was commissioned in 1906 and she was a member of the Great White Fleet that sailed around the world in a show of United States Naval strength in 1907-1909. New Jersey was serving in the Caribbean in the fall of 1913 when Ensign Charles P. McFeaters sent this registered letter to who was probably his mother.
The cover used a common 2 cent Washington for the postal rate and was also franked with a less common usage of Scott Q6, a 10 cent parcel post stamp. Originally issued for use only on parcel post packages effective January 1, 1913, the stamps were declared legal for use as regular stamps effective July 1, 1913. This cover, mailed October 25, 1913 was sent via registered mail, 10 cents paying the registration fee for up to $50 indemnity. The cover was postmarked with the ship's Type 1 cancel.
The parcel post stamp features the German passenger steamship Kronzprinz Wilhelm with mail tender. The Kronzprinz Wilhelm served as an auxiliary cruiser in the German Navy during the early years of World War I, 1914-1915. She was then interned by the United States in April 1915. When the United States entered the war, the ship was seized and pressed into service with the United States Navy as USS Von Steuben as a troop transport.
McFeaters would attain the rank of Captain and served during World War II in command of a division of transports during the Battle of the Solomons and would receive the Navy Cross.
The battleship was painted red-orange and participated in Operation Crossroads (A-bomb tests) at Bikini Atoll in July 1946. Damaged, NEVADA was decommissioned on August 29, 1946 and sunk as a target, off Hawaii on July 31, 1948. She was the only U.S. ship to be at Pearl Harbor and the Normandy Invasion.