USS Nevada (BB 36)
John Young (L-8219)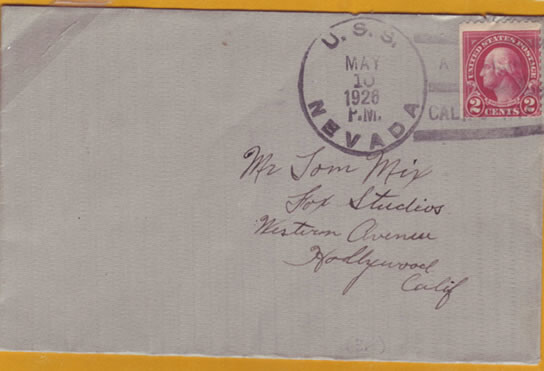 Interesting piece of fan mail from sailor (John Miller Sampson) to silent-film star (Tom Mix) posted with ship's type 2r cancel on 10 MAY 1926. His cowboy hero worked at Fox Studios, Hollywood CA from 1917 to 1928. Tom Mix appeared in 291 films, all but nine were silent films. He starred in the 1925 version of Zane Grey's "the Riders of the Purple Sage." After talkies, Mix tried radio and was killed in an automobile accident in Arizona on October 12, 1940.
Battleship #36 was launched on June 11, 1914 and commissioned USS NEVADA on March 11, 1916. Only the "coal burners" went to Europe, because of the shortage of oil, to join up with the British Grand Fleet. The NEVADA served with the "Bantry Bay Squadron" in August 1918 and escorted President Woodrow Wilson aboard SS GEORGE WASHINGTON into Brest, France in December 1918. She underwent a modernization at the Norfolk Navy Yard (August 1927- January 1930).
Assigned to the Battle Force, Pacific Fleet she participated in maneuvers during 1930s. NEVADA got underway during the Japanese attack at Pearl Harbor (12/7/41) but was intentionally grounded to avoid sinking in the channel. Nick-named "the Cheer-up Ship" because of signs on her deck the next day, she earned 7 battle stars during World War II.
The battleship was painted red-orange and participated in Operation Crossroads (A-bomb tests) at Bikini Atoll in July 1946. Damaged, NEVADA was decommissioned on August 29, 1946 and sunk as a target, off Hawaii on July 31, 1948. She was the only U.S. ship to be at Pearl Harbor and the Normandy Invasion.