USS Nautilus (SS-168)
By Glenn Smith (#8073)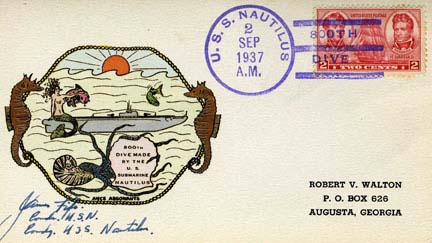 USS NAUTILUS SS-168 cover dated 2 September 1937. At the time, NAUTILUS was operating out of San Diego as part of SUBDIV 13. Commanded by then CDR James Fife, she was making her 800th dive. The cover was made by the ANCS Argonauts, one of whom was my cousin-by-marriage, Robert V. Walton, and autographed by Captain Fife.
Fife later became one of the most prominent submarine leaders of WWII, by war's end holding command of all submarines in the Southwest Pacific. Post war, he held the post of Commander, Submarines Atlantic, and served under Admiral Lord Mountbatten in the Mediterranean .
On retirement, Fife was appointed to the "tombstone" rank of Admiral. He rests at Arlington.
NAUTILUS served throughout WWII, making 14 war patrols and earning a Presidential Unit Citation.