USS Moffett – USS-362
By Don Tjossem (#L-10987)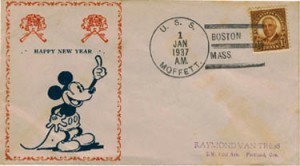 January 2007 Cover of the Month
HAPPY NEW YEAR!
This MOFFETT (DD-362) cover was cancelled on 1 January 1937 with a type 3 cancel that indicates she was in Boston, Mass as evidenced by the killer bar insertion. A one and one-half cent Scott #684 stamp, showing President Warren G. Harding, was used for this cover
The cover is addressed to Raymond Van Tress, who is USCS #763. Since Mr. Van Tress was from Portland, Oregon it appears he may have been active in the USS OREGON Chapter #22 of the USCS. He was a cover sponsor and printer for special events at that time. (Editor: Raymond Van Trees was listed as the Acting Secretary-Treasurer in the 1939 USCS Annual Year Book. The write up on the USS Oregon Chapter notes that the chapter had been in active for some time and was working on reorganization plans at the time. The 1938 Year Book had no listing for the chapter but did list Van Tress as a society member. It notes the members "Mac" McCamley and Van Tress had kept the chapter alive and had sponsored covers for the chapter. The 1940 USCS Year Book lists Van Tress as a member but there is no write up on the Oregon Chapter. Van Tress was not listed in the 1943 Year Book but was listed again in the 1944 and 1945 Year Books but is not listed after that.)
Do you know who the cachet artist is? I have consulted with a few knowledgeable collectors of Naval Covers and have yet to come up with an answer. If you know, please email me at Tjossem@Centurytel.net or send a note to the editor ( shaymur@flash.net ).
The keel of the MOFFETT was laid on 2 January 1934 and she was commissioned on 28 August 1936. This was her very first New Year! She was struck from the Navy rolls on 28 January 1947. If you are interested in more details of MOFFETT and her rich philatelic history be sure to check out the August 2006 and October 2006 issues of the USCS Log.