USS Relief – AH 1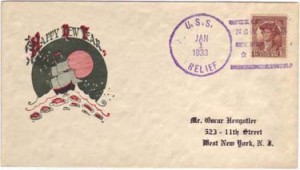 Mid-January 2007 Cover of the Month
By John Young (#L-8219)
Happy New Year, 1933
North Bay Stamp Club
"New Years" cachet by Harry Ioor (USCS #877) who produced several different series of printed envelopes that were sold to collectors. He sold the printed envelopes 12 for 30 cents, 25 for 50 cents, 50 for 75 cents & 100 for a dollar.
Cover from his National Holiday series- envelope #121 (New Year's Day) was purchased by naval cover collector, Oscar Hengstler (USCS #359), West New York, NJ. Hengstler was an associate member of the North Bay Stamp Club (#213) and sent the envelope to NBSC Secretary Roy Sherman to obtain ship cancels. Note the printed matter rate (1/1/2 cent Washington stamp)
Sherman manufactured two cancels (type A & B) that were used with sixteen ship names in the dial (1932-33). Recently discovered unlisted type B cancel (CD-1a) with the name RELIEF and date 1 JAN 1933. The killer bars have wording NEW YEAR/ 1933.
USS RELIEF (AH 1) was commissioned on December 20, 1920. The hospital ship served with the Atlantic (1921-23) & Pacific Fleet (April 1923- June 1941). She had a bed capacity for 500 patients and operated a post office aboard from April 1921 thru June 1946. She earned five battle stars in the Pacific during World War II and had her Last Day in Commission on June 11, 1946.