USS Mississippi (BB-41)
by Glenn Smith (#8073)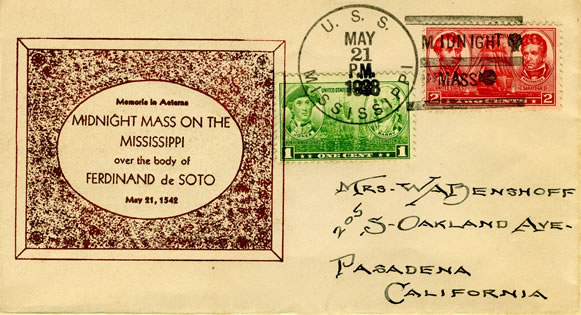 On May 21, 1542 Hernando de Soto, the infamous Spanish explorer died of a fever on the western bank of the Mississippi River. He was buried in the river, allegedly near current day Ferriday, Louisiana, by his men so that the natives could not find his burial place. De Soto had previously claimed to be immortal, and he felt that if it had been discovered that he was, in fact, mortal, the natives would take aggressive action against the survivors of his exploration party. So de Soto's last two acts were to pass command of the expedition to Luis de Moscoso Alvarado, and instruct de Moscoso to have him buried where the natives would not know that he had died.
Flash forward to 1938, and the battleship MISSISSIPPI BB-41 was cruising on the Mississippi River. Apparently the Roman Catholic chaplain knew something about history, and decided to have Midnight Mass over the body of de Soto. Since no one knows for sure where the burial took place the chaplain had to be guessing as to the exact location. Further he (or the cachet maker) got de Soto's first name wrong, as well.