USS Capodanno DE-1093
By Capt Lawrence B. Brennan US Navy Ret., (USCS #L-6221)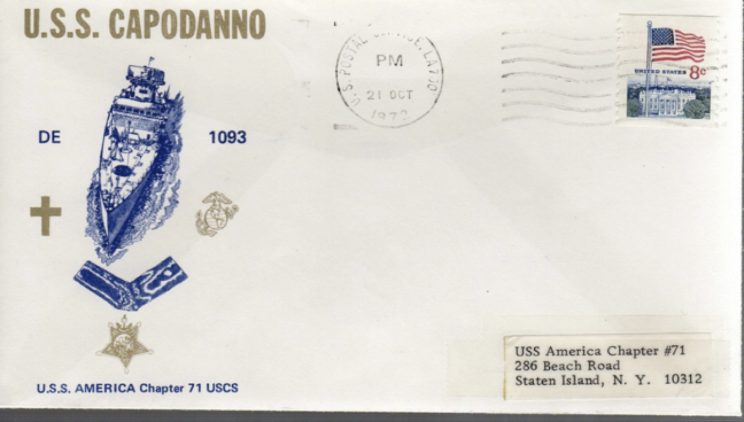 Vincent R. Capodanno was born in Staten Island, New York, on February 13, 1929, the tenth child of Italian immigrant parents. He was graduated from Curtis High School, Staten Island, and attended Fordham University for one year before entering the Maryknoll Missionary Seminary in Ossining, New York. He was ordained a Roman Catholic priest, at age 28, in June 1957.  Father Capodanno's initial missionary assignment was with aboriginal Taiwanese in the mountains of Taiwan. After seven years, Father Capodanno returned to the United States for leave and then was assigned to a Maryknoll school in Hong Kong.
In December 1965, Father Capodanno was commissioned as a lieutenant in the Navy Chaplain Corps. He was assigned to the First Marine Division in Vietnam in April 1966.  He would not live to complete two years of naval service.
At 4:30 am, September 4, 1967, during Operation Swift in the Thang Binh District of the Que Son Valley, elements of the 1st Battalion 5th Marines encountered a large North Vietnamese unit of approximately 2,500 men near the village of Dong Son. The outnumbered and disorganized Company D was in need of reinforcements. By 9:14 am, 26 Marines were confirmed dead, and another company of Marines was committed to the battle. At 9:25 am, the commander of 1st Battalion 5th Marine requested further reinforcements. Father Capodanno went among the wounded and dying, giving last rites. Wounded in the face and hand, he went to help a wounded corpsman only yards from an enemy machine gun and was killed. His body was recovered and interred in his family's plot in Saint Pete's Cemetery, West New Brighton, Staten Island, New York.
At the end of the Johnson administration, on December 27, 1968, Secretary of the Navy Paul Ignatius notified the family that Lieutenant Capodanno would posthumously be awarded the Medal of Honor. The official ceremony was held January 7, 1969.  The Medal of Honor citation reads:
For conspicuous gallantry and intrepidity at the risk of his life above and beyond the call of duty as Chaplain of the 3d Battalion, in connection with operations against enemy forces. In response to reports that the 2d Platoon of M Company was in danger of being overrun by a massed enemy assaulting force, Lt. Capodanno left the relative safety of the company command post and ran through an open area raked with fire, directly to the beleaguered platoon. Disregarding the intense enemy small-arms, automatic-weapons, and mortar fire, he moved about the battlefield administering last rites to the dying and giving medical aid to the wounded. When an exploding mortar round inflicted painful multiple wounds to his arms and legs, and severed a portion of his right hand, he steadfastly refused all medical aid. Instead, he directed the corpsmen to help their wounded comrades and, with calm vigor, continued to move about the battlefield as he provided encouragement by voice and example to the valiant Marines. Upon encountering a wounded corpsman in the direct line of fire of an enemy machine gunner positioned approximately 15 yards away, Lt. Capodanno rushed a daring attempt to aid and assist the mortally wounded corpsman. At that instant, only inches from his goal, he was struck down by a burst of machine gun fire. By his heroic conduct on the battlefield, and his inspiring example, Lt. Capodanno upheld the finest traditions of the U.S. Naval Service. He gallantly gave his life in the cause of freedom  USS CAPODANNO was commissioned on 17 November 1973 and served for nearly 20 years before being transferred to the Turkish Navy.  The ship served with the Atlantic Fleet and frequently deployed to the Mediterranean Sea with the Sixth Fleet and also made UNITAS cruises to South America.  Decommissioned on 30 July 1993, CAPODANNO was subsequently leased to Turkey where she was recommissioned as TCG MUAVENET (F-250). Stricken from the Navy list on 11 January 1995, CAPODANNO was finally sold to Turkey on 22 February 2002.
The Capodanno family remains prominent on Staten Island.  Following extensive damage to the south shore caused by Sandy in the fall of 2012, it was reported that the Medal of Honor and citation remained undamaged in the home of his older brother near the beach in Eltingville, within easy walking distance of my family's home.  His older brother, Jim – who was a Korean-era Marine, is the family custodian and keeper of the flame.  When America Chapter was preparing its covers for the launch of CAPODANNO, Jim was most helpful and generous in allowing us to photograph the actual medal and citation.  Subsequently, we used those photographs as artist's models and the Medal of Honor and hull of the ship were drawn by Adrianne Feretti, who now is a prominent dentist on Staten Island.  More than 1,000 covers were printed by Post Litho and hundreds were donated to Navy's Chief of Chaplain who provided one to each active duty chaplain.