USS Mississippi BB-41
By Don Tjossem (L-10,987)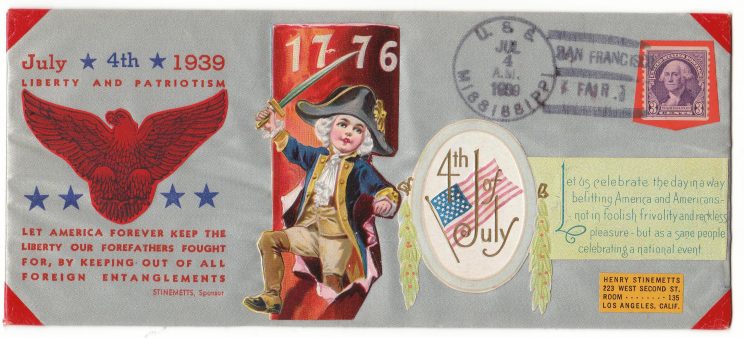 Henry Stinemetts, who lived in Los Angeles, CA, is known for his very decorative and ornate covers. This 4 July 1939 # 10 cover was made 70 years ago this Fourth of July. His covers were for the most part one of a kind. Most of them included cutouts of postcards. Quite often the envelope was covered with what appears to be satin cloth. It is interesting to notice the quote under the eagle on the left is attributed to him and is printed upon the covering of the envelope. Most of his highly decorated covers, such as this, most likely never went through the mail.
Stinemetts was USCS #1102 and an active cover sponsor and servicer in the period from 1932 – 1940, the so called "Golden Era" of Naval Covers. His cachets are normally immediately recognized by style, although he usually noted his sponsorship on the cachets.
This cover was cancelled aboard the USS MISSISSIPPI (BB-41) during the San Francisco World's Fair, as indicated within its killer bars of the Type 3 cancel. This World's Fair celebrated the opening of the two new San Francisco city bridges, the Golden Gate Bridge and the Oakland Bay Bridge.
MISSISSIPPI was commissioned on 18 December 1917 and was decommissioned on 17 September 1956 after receiving eight battle stars for her distinguished World War II service. During the war she was hit twice by kamikaze planes, but the fighting ship continued to support the troops.