USS Cherokee AT-66
By Steve Shay (L-10,812)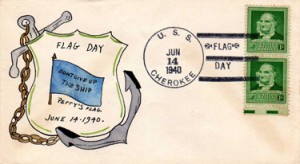 If you are a fan of hand drawn covers, then you may have admired Gladys Adler covers. Gladys (USCS #2609) produced hand drawn covers in the late 1930's through the late 1940's. She is probably best known for her patriotic covers or First Day Covers which were usually not naval covers but she also did some naval covers. Her naval covers often combined patriotic themes. This month's cover is a cover by Gladys, drawn in pen and colored with water colors. It marks Flag Day, June 14. The flag is a facsimile of the flag flown by Oliver Hazard Perry during the Battle of Lake Erie September 13, 1813. It was during this battle that Perry wrote in a report: "We have met the enemy and they are ours…"
Flag Day has been celebrated each June 14 since 1916, when President Wilson issued a
proclamation. It is not an official federal holiday though many folks fly a flag from their house on this day. Our anniversary is Flag Day makes it easy to remember the date.
The cover was cancelled aboard the USS CHEROKEE. She was launched in November 1939 and commissioned on April 26, 1940. That probably accounts for the sharp strike on this cover, clearly showing the lines in the killer bars. She performed service in the Atlantic, participating in Operation Torch during the invasion of North Africa with later service in the Caribbean and Brazil. She was decommissioned and transferred to the Coast Guard on June 26, 1946. USCGC CHEROKEE (WAT/ WMEC-165) performed
Search & Rescue missions until decommissioning in December 1990. She was returned to the Navy and stricken from the Naval Registry in 1991 and later sunk as a target.