USS Mindanao (PR 8 )
By Steve Shay (#L-10821)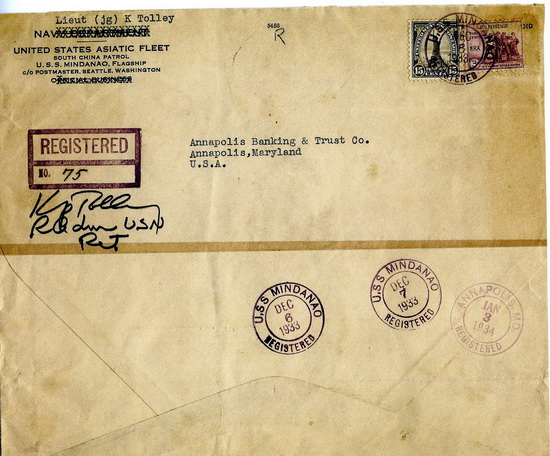 In the fall of 1985 Glenn Smith (#8073) sent this cover to RADM Kemp Tolley and asked him to autograph it for him.  He did so and sent it back to Glenn along with a letter which stated "Herewith (is) your cover.  It brings back many found memories.  The mail clerk at the time was Joseph Klaffke, BM 2/c, who died about nine years ago.  He was married to a Chinese, who probably is still living in Florida.  Joe forgot to stamp the seam on the back where the flap is pasted down, as is (I believe) required now.  But he was very careful, as always, to get a good impression with the cancel stamp.  Also, I note the fantastic rise in register fees since that time."  Tolley mentions that he had never autographed a cover before.
There is an article in the January 2001 Log written after his death.  Tolley was a guest speaker at the 1980 USCS Convention and he joined the USCS shortly after that time.  He was never a cover collector though the article says he appreciated the fact that USCS members were also naval historians as well as postal historians.  Tolley served in the Asiatic Fleet as this month's cover illustrates.
Tolley wrote some very interesting books, "Yangtze River Patrol", "Caviar and Commissars" and "Cruise of the Lanakai" that tell about his adventures during his service.
The USS Mindanao was a river gunboat built in Shanghai for service on the rivers of China.  Launched in 1927, she served in China waters until ordered to set sail for the Philippines in December 1941 as war with the Japanese loomed.  She then served in Manila Bay until April when she was stripped of all useful gear and her crew put ashore.  She was sunk on May 2, 1941 to prevent capture.