USS Medusa AR-1
By Steve Shay (USCS #L-10,821)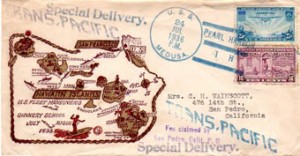 The USS Medusa was the first fleet repair ship designed as such by the US Navy. She was designed to aid in repairs that were above and beyond the type of repairs that could be handled aboard ship but could be accomplished without return to a shipyard. She was launched April 16, 1923 and commissioned September 18, 1924. She was conceived primarily as a tender to the fleet battleships enabling repairs to be made to the ships as well as the scout planes for the battleships and cruisers.
This cover has an interesting cachet, probably printed aboard the ship, showing that there were Fleet Maneuvers and Gunnery School exercises being conducted in the July – August 1936 time period. It features a nice view of the Hawaiian Islands with tourist points marked on the major islands.
The cover was presumably mailed by one of the Medusa crew to a woman in San Pedro, home of the fleet. Perhaps this was the senders wife or relative. The sender wanted it to get to her quickly, using airmail and special delivery services. The cover was postmarked on July 24 and the back stamp shows that it arrived in San Pedro at 4 AM on July 26. The airmail rate was 25 cents at this time, with mail being carried by the Trans Pacific Clippers which flew into Alameda, California in the Bay Area. It would seem that this cover departed right away, on the 24 th or 25 th, with about an 18 hour flight to the Bay Area. From there the cover would have gone via a feeder flight to Los Angeles via United Airlines, called a Contract Air Mail route, and then driven to San Pedro. That's not bad service. 10 cents paid for special delivery to have it delivered outside of the normal mail carrier route.
Medusa would serve with the fleet through World War II and would be decommissioned November 18, 1946.