USS Congress – Screw Sloop
by Glenn Smith (#8073)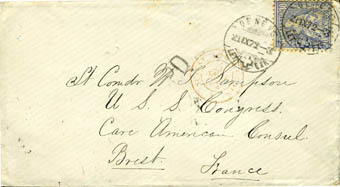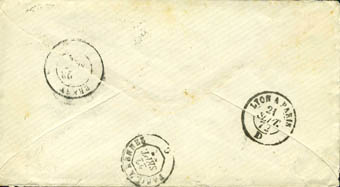 This CONGRESS was only in commission from 1870 to 1876. There have been five other ships named CONGRESS.
From February 1872 to January 1874, CONGRESS was part of the Mediterranean Squadron, and visited many ports throughout Europe.
What makes this cover especially interesting is that it is addressed to Lt Comdr W.T. Sampson. At the time of this cover, Sampson was serving in CONGRESS, not in command, but likely as second-in-command. Sampson would later rise to the rank of rear admiral, and would be in overall command in the Spanish-American War (1898) at the Naval Battle of Santiago. His second-in-command was Commodore Winfield Scott Schley, whose so-called 'Flying Squadron' was instrumental in the battle. At the onset of the battle, Sampson was temporarily absent with his flagship NEW YORK, having gone about twenty-miles down the Cuban coast to confer with the ground commander Army Major General William R. Shafter. While Sampson was gone, Schley's force engaged the Spanish, and had basically defeated them before Sampson could return. In the aftermath, the famous Sampson-Schley Controversy swirled throughout Navy circles for many years, with both men claiming credit for the victory. The issue is still discussed today by naval historians.
This cover was sent from Geneva, Switzerland on September 21, 1872 to Sampson in CONGRESS. The CONGRESS was apparently thought to be in port at Brest, France. The cover is back stamped arriving at Paris on the same day, departing Paris on the 22 nd, and arriving at Brest on the 23 rd, indicating that the mail service in 1872 between Switzerland and France was pretty darn good.