USS Bismarck Sea (CVE-95)
By Steve Shay (USCS #L-10,821)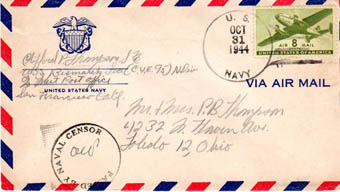 The Bismarck Sea was built by the Kaiser Shipbuilding yard in Vancouver, Washington.  She was originally laid down as Alikula Bay, then launched April  17, 1944 and commissioned into the US Navy on May 20, 1944.  She was renamed the USS Bismarck Sea on May 16, 1944. She immediately became involved with ferrying planes from the West Coast to the war, through September 1944.  She then underwent air operation training and reported for duty at Eniwetok in November.
She then began duty in the Pacific Theater and supported landings in the Philippines.  In February 1945 she was part of the forces covering the invasion of Iwo Jima.  Typical support duties included CAP, antisubmarine patrols and strike missions supporting the troops.
On February 21, Japanese planes attacked, with one crashing near the after elevator.  A second plane crashed into the forward elevator.  The resulting fires got out of control, fueled by exploding ordnance and the ship had to be abandoned and 2 hours later the carrier sank.  318 sailors lost their lives.
This cover was mailed from a Seaman 2nd Class on October 31, 1944, probably upon arrival at Eniwetok, as the sailor surely wanted to let his parents know he was safe.  The air mail rate from abroad was only 6 cents for military personnel.  This cover is overpaid by 2 cents.  The sailor probably had some extra 8 cent stamps left over from his supply used while the ship was still in the US, 8 cents being the proper domestic  air mail rate.