Graf Zeppelin carried Naval Cover
By Steve Shay (#L-10,821)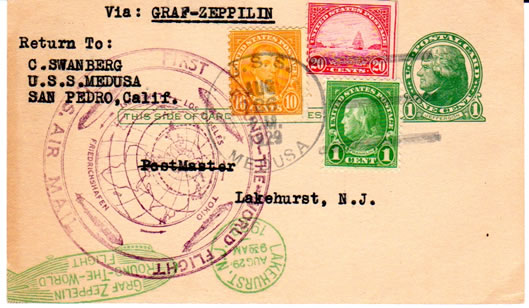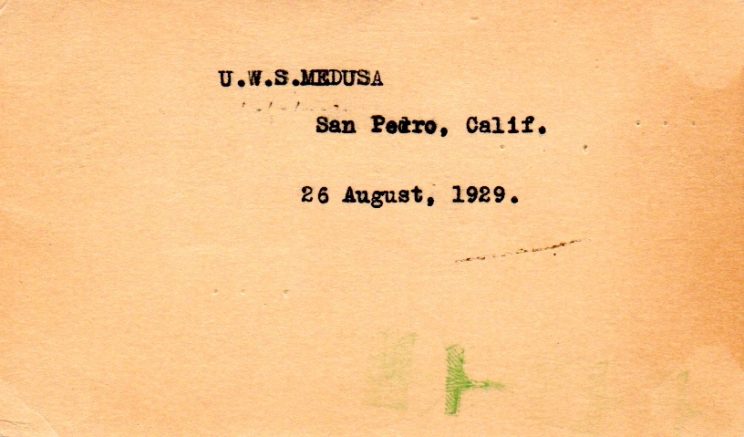 The German designed, built and operated Zeppelin, LZ-127, was christened as Graf Zeppelin in 1928. This Zeppelin was patterned on the design of Zeppelin LZ-126, given to the United States as a war reparation to the US Navy and commissioned as USS LOS ANGELES. Graf Zeppelin was the largest in the world with accommodations for 24 passengers. Graf Zeppelin operated from first flight in September 1928 until June 1937 when replaced by the new Zeppelin Hindenburg, LZ-129.
Graf Zeppelin operated between Germany and the United States, in the Mediterranean and later in her career, between Germany and South America. In 1931 she ventured into the Arctic with the intention of rendezvousing with the Nautilus and polar researcher George Hubert Wilkins.
In 1929, newspaper magnate William Randolph Hearst financed a Graf Zeppelin Round-the-World flight with the proviso that Hearst would have exclusive story rights. Graf Zeppelin left Friederichshafen, Germany July 27, 1929 for Lakehurst, New Jersey, arriving August 7. On August 8, the Zeppelin departed Lakehurst, heading east back to Friederichshafen, arriving August 10. She departed five days later on August 15 for Tokyo, arriving August 19. Departure for Los Angeles was made on August 23 with arrival on August 26. Graf Zeppelin departed Los Angeles August 27, arriving at Lakehurst August 29, a trip of 51 hours, 57 minutes, traveling the southern skies to El Paso, then up and over the Midwest by flying over Kansas City, Chicago and Detroit before passing over New York City. This completed the "American" Round-the-World flight.
Graf Zeppelin departed Lakehurst on September 1, arriving back in Friederichshafen September 4, completing the "German" Round-the-World flight.
Special cachets and postal markings were applied to covers that were carried on the Round-the-World flight. The Postal Service approved a special rate for the Los Angeles to Lakehurst leg. The rate was approved August 15, 1929 in Postal Bulletin 15701; a 30¢ post card rate, ordinary postage included. The post card shown was carried on this flight as a souvenir for a crewman on the repair ship USS MEDUSA. Franked with 30¢ for the special rate, the post card was mailed from MEDUSA on August 26, receiving a Type 3s cancel, for 1¢ to the Los Angeles post office for placing aboard the flight. The official magenta "American" Round-the-World cachet was applied. Placed aboard the Graf Zeppelin, the card traveled to Lakehurst, receiving the green Lakehurst August 29 Round-the-World marking. The card was then returned to the sender for 1¢.
Covers carried aboard the Round-the-World flight are highly collectible. This is the only Graf Zeppelin flown naval cover that I have seen.