USS Marblehead, CL-12
By Steve Shay (#L-10,821)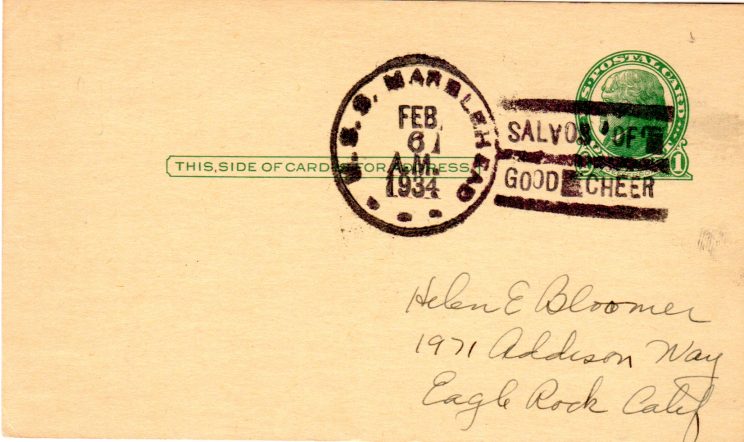 The cruiser USS Marblehead was a Omaha class, light cruiser, launched in 1923 and commissioned the following year. She served around the globe, with time spent in South America, the Asiatic Fleet, the Atlantic Fleet and the Pacific Fleet. When World War II broke out, she was part of the Asiatic Fleet. During the Battle of Makassar Strait, her rudder was jammed and she began a long cruise to Ceylon, then South Africa for repairs before arriving in Brooklyn for complete repairs.
Her service during the war saw time spent in the North Atlantic as well as the South Atlantic and even service in the Mediterranean as part of the Naval force taking part in Operation Dragoon, the invasion of Southern France.
She was decommissioned November 1, 1945 and scrapped the following year.
This card was postmarked in 1934, while in the Pacific Fleet and features an unusual killer bar slogan, "Salvos of Good Cheer."