USS Lyman K Swenson – DD-729
By Steve Shay (L-10,821)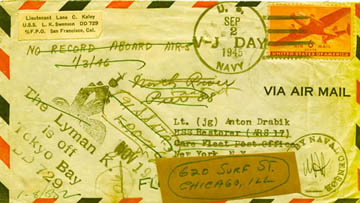 September 2005 Cover of the Month
As many magazines and some news reports have been noting this year, 2005 is the 60th anniversary of the end of World War II. It seems only appropriate to feature a naval cover marking that occasion.
On September 2, 1945, ships from the United States Navy under the command of Admiral William F Halsey with the Third Fleet as well as ships from the British Pacific Fleet operating with the Third Fleet assembled in Tokyo Bay for the surrender ceremony of the Japanese forces. The surrender ceremony took place aboard the battleship USS Missouri with Supreme Commander for all Allied Forces General of the Army Douglas MacArthur presiding over the signing of the surrender document.
One of the ships at anchor was the destroyer USS Lyman K Swenson, DD-729. The Lyman K Swenson was a relatively new ship, first taking part in the war in October 1944. The destroyer took part in the Okinawa campaign. As the end of the war approached, the destroyer was part of Destroyer Squadron 61's sweep into Tokyo Bay on an antishipping sweep on July 22.
The Lyman K Swenson enjoyed a long career, taking part in both the Korea War and Vietnam War before being decommissioned in 1971.
While in Tokyo Bay on September 2, 1945, one of her officers wrote to a fellow officer, a friend stationed on the USS Restorer. This letter was postmarked with the ships Type 2z cancel and a hand stamp was applied over the cancel noting "V-J Day." The ship had a special cachet made up noting that the ship was "off Tokyo Bay." The letter was censored and the censoring officer applied his hand stamp and initials.
Upon arrival at some post office, the Restorer's address was crossed out and a new address showing North Pier, Pier 88 hand written in. The cover is backstamped with a Directory Service, Salvage, Pier 88 backstamp. The cover is also backstamped with a Type 2# cancel from the USS Leonard Wood on October 23, 1945. Unfortunately the friend must have been transferred off the Restorer. A postal clerk marked out the original address and the North River address and noted the friend was now aboard the tug USS ATR-5, dating the marking as November 19. The letter continued its way in the mailstream.
The letter made it's way to the ATR-5 where the postal clerk noted on January 3, 1946 that the friend was not aboard. He marked out all of the addresses and added a piece of tape with a new address showing a civilian address. Presumably the letter was finally delivered shortly after this.
What started out as a nice souvenir marking VJ Day became a nice souvenir to postal history collectors. The letter that was enclosed in the cover is shown below.