USS Swordfish SS-193
By Steve Shay (L-10,821)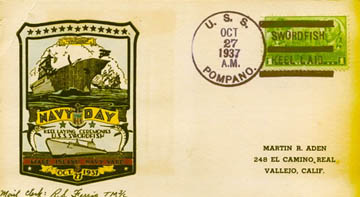 October 2005 Cover of the Month
Happy Navy Day!
While Navy Day is no longer officially recognized as October 27, in fact it is now officially recognized as October 13, most cover collectors have covers in their collections postmarked on October 27. During the 1930's, Navy Day was a popular event to mark with a cachet and maybe even a special cancel.
Some shipyards made it a point to hold ship ceremonies on October 27. The Mare Island Shipyard was one of these, with several ship ceremonies, keel layings or launchings, in the 1930's or 1940's. In 1937, the submarine USS Swordfish had her keel laid. The Swordfish would go on to service during World War II. She made 13 war patrols and sank 12 ships. I February 1942 Swordfish evacuated the President of the Philippines and his family from Luzon. Swordfish would be lost in January 1945.
This month our cover has a dual purpose cachet marking Navy Day and the Swordfish keel laying. The cachet is drawn by Martin Aden. Aden was a shipyard employee who prepared cachets in the late 1930's through the early 1950's. He was also a commercial artist for the Honolulu Advertiser. His cachets were drawn in pen and ink, photographically reduced and then printed onto envelopes. The designs were usually fairly intricate as is this design. This October 27, 1937 design features the sailing ship USS Constitution, the aircraft carrier USS Lexington as well as the submarine USS Swordfish. Aden prepared cachets for most Mare Island events through early 1942.
Aden was also a member of the ANCS (American Naval Cancellation Society) and a member of the Argonauts crew. He prepared several cachets with Alex Heese as sponsor. Many of these Argonauts cachets were printed on card stock and then hand colored by Alex Heese and his wife. This Swordfish cachet is actually printed on card stock and hand colored, using the same type style Heese's covers were addressed with. This Swordfish was surely hand colored by Heese. This same cachet exists in a printed version on cover with no hand coloring and below the cachet are the words "U.S. Navy Official Cachet"indicating that Aden prepared the cachet in an official capacity but also used it for his personal hobby interests.
The keel laying event was postmarked by another Mare Island built submarine, the USS Pompano, using her Type 3 cancel. The cover was signed by the Pompano mail clerk.