USS Lexington (CV-2)
By Steve Shay (#L-10,821)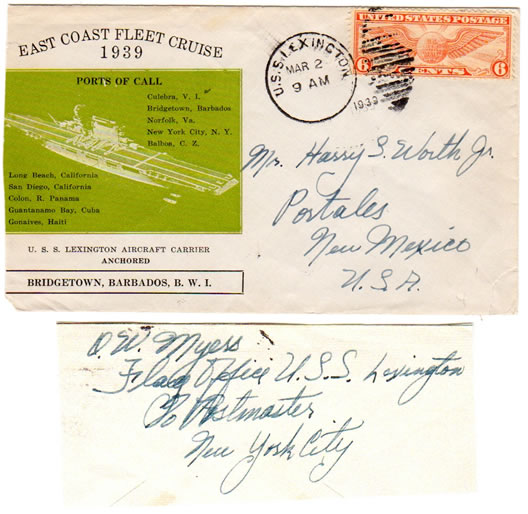 The aircraft carrier USS Lexington moved from her base in San Pedro to the Caribbean and Atlantic in February 1939 as part of Fleet Exercise XX. During this exercise, Lexington would maneuver with USS Yorktown, USS Ranger and USS Enterprise for the first time that the US Navy grouped four aircraft carriers in an operation. This exercise simulated defense of the US East Coast and Latin America by an attacking navy. Over 130 ships participated in the exercise along with over 600 planes. It must have been quite a show seeing all of the participating ships in what could be seen as a prelude to the type of fleets and missions that would take place during World War II. Lexington participated as part of the attacking forces, the Black Force.
I believe that this cover was printed aboard ship, for use by the crew. Similar cachets can also be found printed in red, also with the ship ports of call listed. This particular cover postmarked March 2, 1939, was mailed by a sailor attached the Flag Office as determined by the corner card on the reverse of the cover. The Flag Admiral was Vice Admiral Ernest King. The Flag was normally aboard USS Saratoga but she remained on the west coast and did not participate in the exercise. Saratoga, Arizona, a cruiser and several destroyers remained on the west coast because of tensions with Japan.
The sender put a tick mark by Culebra, Virgin Islands, probably meaning this cover was posted from there even though the cachet indicates the ship was at Bridgetown, Barbados. It is a nice use of commercial mail from the Lexington.