USS La Jolla (SSN-701)
By Steve Shay (#L-10,821)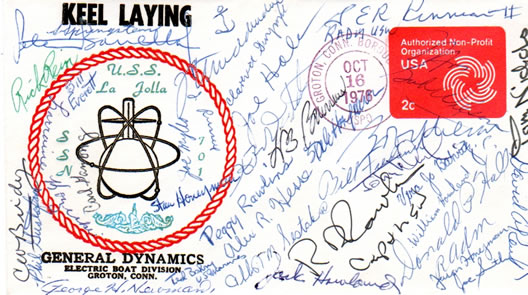 The USCS Northeast Regional meeting was held in New London, Connecticut October 16-17, 1976. Some of those in attendance took a complimentary bus ride provided by the Nathan Hale Chapter to see the Keel Laying ceremony for the La Jolla, a nuclear attack submarine. The report in the Log says that the USCS visitors had to leave before the traditional initial welding by the wife of Congressman Bob Wilson from California in order to meet a luncheon date at the Officers Club on the New London Submarine Base where member Captain Bob Rawlins was Commanding Officer. The same report goes on to say that after lunch there was a tour of the lower base and of the Submarine Force and Library.
The cover this month was signed by those attending the Keel Laying ceremony. Among the non-USCS member signatures are (on top of the stamp) Congressman Wilson and his wife, RADM GER Kennear II, RADM Donald Hall and the Secretary of the Navy J. William Middendorf (under the penned anchor). Among the USCS member signatures, the following are recognizable: Joe Hale, Stan Honeyman, Bill Everett, Chuck Birdy, Lorraine Kozicki, Carl Ganong, Ted Bahry, Alex Hesse, Jim Russell, Bob Rawlins, Jack Howland, George Newman and Dave Kent. You may recognize some others.
It was almost three years before La Jolla would be launched, August 11, 1979. She is still in commission today.