USS LEXINGTON (CV 2)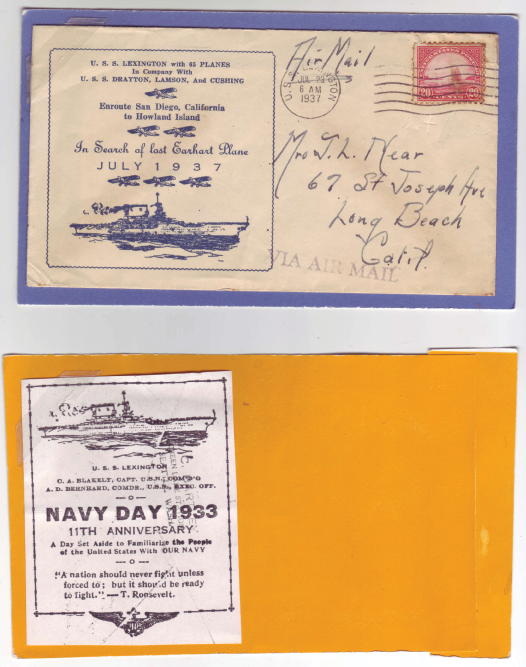 Printed USS LEXINGTON envelope documents the search for lost Earhart plane (2-18 JUL 1937) along with the destroyers, USS DRAYTON, USS LAMSON and USS CUSHING. It was sent by a crew-member aboard carrier, posted (type 7qt cancel) on 23 JUL 1937, franked with the clipper rate postage established in February.
Envelope appears to have been printed in the carrier's print shop, as the printer's cut of "Lady Lex" came from a previous stamp cachet used on holiday covers i.e. Navy Day, Thanksgiving, Christmas 1933 and someone salvaged one of the cachets.
Originally designed as a battle-cruiser, Lady Lex was completed as the Navy's first aircraft carrier to comply with the terms of the 1922 Washington Navy Treaty. The 888-foot, 33,000 ton carrier was commissioned on 14 DEC 1927 and had a compliment of 1900 sailors that include aviation personnel. A post office was established (JAN 1928) with Edward Beckwith designated their first mail clerk. The ship's FDPS 16 MAR 1928 and that cancel have a scarcity rating R-2 (10- 25 copies recorded.)
Lady Lex participated in fleet problems and maneuvers during 1930's and made an East Coast Cruise during the summer, 1934. LEXINGTON was at sea, as were most carriers when the Japanese attacked Pearl Harbor. She was lost at the Battle of the Coral Sea in May 8, 1942, suffering only 216 causalities and more than 2700 sailors & marines being evacuated before being sent to the bottom by American torpedoes.