USS Kanawha AO-1
By Steve Shay (#L-10821)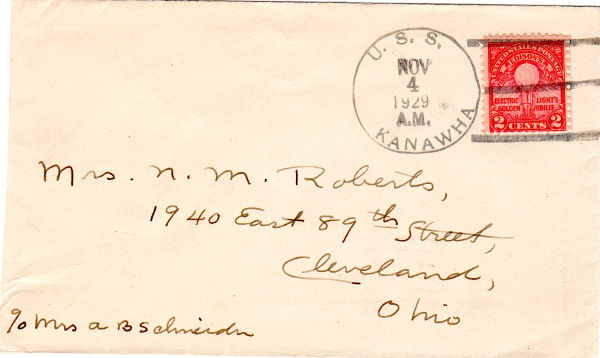 The USS Kanawha was first ship built as an oiler for the United States Navy. She was built at the Mare Island Navy Yard with her keel laying in December 1913, launched just 8 months later July 11, 1914 and commissioned almost a full year later, June 5, 1915. She would go on to serve for almost 30 years.
Her first years in service were spent in the Atlantic, and when the US entered World War I, she was assigned to Commander, Destroyer Force, Atlantic Ocean and made her first trip to France in June 1917. She spent much of her time during the war carrying fuel from Halifax, Nova Scotia to Britain and France.
After the war, she continued to serve in the Atlantic until August 1919 when she sailed for San Pedro to join the Pacific Fleet. With a few exceptions, she spent 1919 through 1929 in the Pacific. She was decommissioned at the Puget Sound Naval Shipyard December 18, 1929.
She was recommissioned in 1934 and continued her service in the Pacific, ranging from the Canal Zone to Alaska to Wake Island.
When the US entered World War II, she made convoy runs between Hawaii and California until moving into service in the south Pacific. In June 1943, her service area was the Solomon Islands. On April 7, just outside Tulagi Harbor, she was attacked by Japanese planes and bombed. With fires breaking out, she was beached but just before midnight, she slid into deep water and sunk.
This cover was cancelled shortly before her decommissioning in December 1929, postmarked November 4.