USS John D. Ford DD-228
By Steve Shay (#L-10821)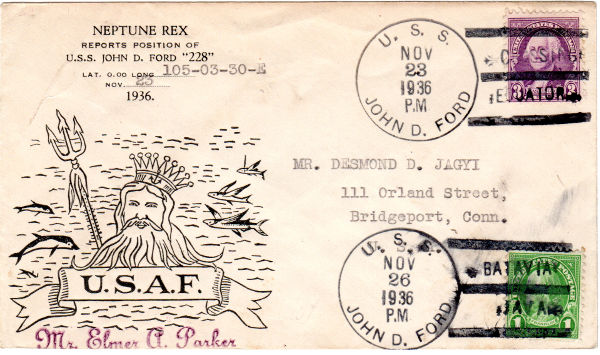 John D Ford was one of the destroyers authorized as part of the naval build up during World War I. She was completed too late for wartime service, not being commissioned until 1920.
She was assigned to duty in the Asiatic Fleet in 1922 and would see service in that fleet until the fleet was reorganized early in 1942. She participated in actions near Java in January and February 1942. When the fleet retreated to Australia, she participated in convoy duty, including convoys between San Francisco and Pearl Harbor. Her service took her next the Canal Zone performing more convoy duty and then into the South Atlantic. In July 1945 she was converted to a miscellaneous auxiliary and given the designation AG-119. She was decommissioned in November 1945.
This ship board printed cover is cancelled during her Asiatic Fleet service. The cancels mark her crossing of the equator on November 21, 1936 and then her location in Batavia, Java on November 23.